Happy Thanksgiving From Deep Glamour
One of the peculiar side effects of blogging is looking for your blogging subject in absolutely everything around you. Fortunately, seeking out the glamorous side of everything, from preschool selection to business development, often makes the world look like a shiny, beautiful place.
Usually, it doesn't take too long to find the glamour angle. This week, though, glamour has been a little harder to discover - and it's because of Thanksgiving. As it turns out, Thanksgiving is an occasion that is just not naturally glamorous. (Though, to reference Virginia's recent post, it is charismatic.)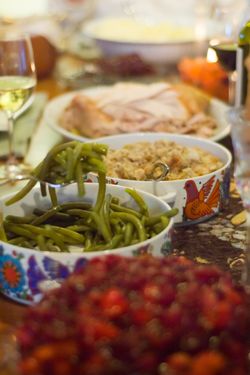 There are articles out there, of course, about setting a fabulous Thanksgiving table, or about creating fancy, updated versions of classic Thanksgiving dishes. But these articles don't get to the core of the holiday, its raison d'etre. Thanksgiving started as a celebration of the harvest and since the first Thanksgiving (in 1621 at Plymouth, Massachusetts, or in 1619 at Berkeley Plantation in Virginia, depending on who you ask). The first colonists observing Thanksgiving were also celebrating their safe arrival and survival in America.
Whether the focus was on the harvest or on arrival and survival, the celebration was a humble one. It was actually about giving thanks, not about the people doing the thanking. As a result, Thanksgiving appears to be the one day of the year that glamour willingly takes a backseat to more humble pursuits. It's a day about the people around the table, the traditions passed down from generation to generation, and about reflecting on how lucky we are - whether we're naturally glamorous or not.
And that's as it should be.
So, happy Thanksgiving, everyone! All of us at Deep Glamour hope your turkey is moist, your pumpkin pie crust flaky, and your football games fun.
Oh, and we hope you get lots of rest, too. Because starting at the crack of dawn on Black Friday, glamour is back, and ready for the holiday season.
[Thanksgiving Spread by Flickr user Carbon NYC, used under the Creative Commons license.]