Glamour Showdown: New York Vs. LA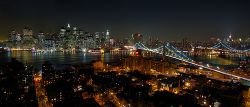 At the end of every DG Q&A, we ask the interviewee a set of "either/or" questions - as in, "Which one is more glamorous: champagne or single malt Scotch?" One of those comparisons is New York vs. Los Angeles. And a lopsided question it is.
Of the twenty people who have answered that question, only one - ONE! - chose LA. That was film critic Karina Longworth, who explained, "I'm an LA native and I miss it terribly." Which isn't exactly the same thing as choosing LA over NYC. Besides Karina, two people chose neither city, three worked out a way to choose both, and 14 picked New York.
Why is this? Why does New York get Jay-Z and Frank Sinatra, while LA gets Randy Newman?
Is it because New York seems somehow more serious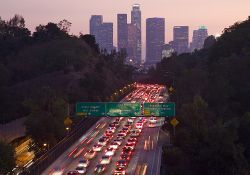 and grownup than LA? Recently on Slate, Troy Patterson agreed with a reader's assessment that MTV's show The Hills is a "horrendous attack on humanity," but gave its East Coast spinoff, The City, a pass, even suggesting its "heroine," Whitney Port, is a modern day Mary Tyler Moore. Yes, The City has a legitimate fashion industry focus (and no Speidi) but in its early days, The Hills was supposed to be about fashion, too, but that never quite panned out.
Or is it the weather? Jackie Danicki, another of our interviewees, might have summed it up best when she chose New York as more glamorous, "if only because all that sunshine doesn't allow the dark side you need for proper glamour."
Possibly it's just a matter for the brand consultants. When people answer this question, they're probably thinking of Manhattan, a tiny island. The borough's geographic boundaries are a blessing, branding-wise. When we talk about West Coast glamour, it's often about Old Hollywood, or about the dreamy image of California. That's not the same as talking about LA, with its freeways and sprawl and smog. Los Angeles, with all its space, doesn't stand a chance against petit Manhattan.
Or maybe its just personal preference. If I had to pick, I'd choose New York every time, too, but that's because I am from the East Coast, feel comfortable with the pace and grit of Manhattan, and something about LA (all that blonde hair) makes me nervous because its unfamiliar.
Would the rest of the DG team (especially the ones who live in LA) agree? I doubt it.
[Photo of New York skyline by Flickr user ajagendorf25. Photo of Los Angeles skyline by Flickr user Kevitivity. Both used under the Creative Commons license.]