Glamorous Materials: Satin, Lacquer, Diamonds, Fur, Feathers, And...Cellophane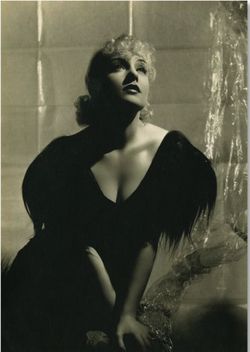 To the contemporary eye, this George Hurell photo of Carole Lombard (part of an enormous auction this Friday and Saturday) seems strange. She looks beautiful, and the lighting and pose are glamorous. But what's with the plastic sheeting? Is that a shower curtain to her left?
Behold the glamour of cellophane. Like diamonds or crystal, cellophane has a sparkling, now-you-see-it-now-you-don't quality. Although transparent, when crinkled and lit correctly it creates a teasing mystery. In Glamour: A History
, Stephen Gundle likens cellophane to "striptease, which achieved its effect by constantly making the unveiled body more remote."Wrapped in cellophane, "products were available but untouchable and therefore inaccessible."
In Hurrell's photo, the shimmering plastic catches the light, creating a cool, translucent contrast to the soft opacity of Lombard's feathered dress and the warmth of her skin. If you don't associate plastic with cheapness, cellophane makes perfect sense as a glamorous material. Like glamour itself, it is alluringly artificial.In the 1920s and '30s, cellophane's appeal went beyond these intrinsic aesthetic properties. This new material epitomized high-tech modernity: "You're the purple light of a summer night in Spain / You're the National Gallery / You're Garbo's salary / You're cellophane!" sang Cole Porter in "You're the Top!"
Judith Brown in Glamour in Six Dimensions: Modernism and the Radiance of Form
, which I reviewed along with the Gundle book here, devotes an entire chapter to cellophane. She is interested, she writes, in the material as "pure surface...a protective veneer from dusty reality." And she notes its ubiquity in the popular culture of the 1920s and '30s: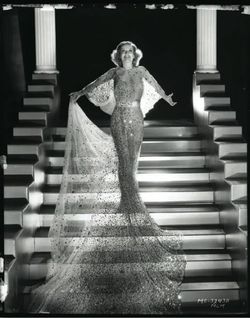 Cellophane tablecloths glitter in an upscale nightclub in the Astaire-Rogers blockbuster Swing Time (1936); cellophane also appears in an earlier Joan Crawford film, Dancing Lady (1933), in the transparent swags at the back of a dance set, and again in the Broadway musical staged within the film. in this film, the cellophane also appears in costume form: a group of black-attired old women, complete with bonnets, lace collars, wire glasses, and bent-over backs make their way into a futuristic beauty parlor and emerge as modern bombshells, perfectly artificial with cellophane outfits and what might be plastic hair. Cellophane similarly appears in a swanky Chinese nightclub as the "The Girls in Cellophane" take the stage in W. C. Fields's International House (1933). The pages of Vogue magazine also mark cellophane as haute couture, here as the "cellophane toque" that makes a "deceptively simple" garment cutting edge by newly framing the model's face in the most artificial of head covers; and again, as an arresting sight in this newspaper photograph of an urban street. Cellophane fashion staked out a turning point: cellophane was chic and, above all, now.
This Hurrell photo of Joan Crawford, whose negative is in the auction, is from Dancing Lady. Although Crawford is not literally wearing cellophane, her dress has a similar sparkling, translucent quality. It makes her look like a star.
[Photographs courtesy of Profiles in History.]