Early, More Glamorous Version Of Shepard Fairey's Obama Poster Up For Auction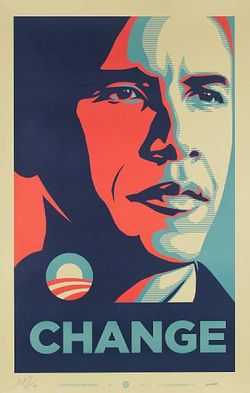 This version of Shepard Fairey's 2008 Barack Obama poster, one of 200 prints the artist signed for campaign staff, will go up for auction at Bonham's on January 11. The auction house estimates its likely sales price at £1,000-1,500 ($1,546-2,319 at current exchange rates).
Although not as famous as the later versions based on Mannie Garcia's A.P. photo, the image of the candidate is even more glamorous. Instead of the angle spoofed by The Onion as a calculated "looking-off-in-the-future pose," this poster features a closer-cropped semi-profile where the stylized light and shadow work more naturally. It doesn't show the candidate's standard-issue suit or his goofy-looking ears.
Not to underplay the glamour of the famous version, but that Obama looks more like a regular politician or businessman—a dreamy guy in a suit—compared to this one. Here he not only looks less calculated and ordinary but a bit less like a Communist dictator and more like someone you'd find on American currency.
The one false note is the placement of the campaign's horizon logo. On the more-famous poster, where it appears on Obama's lapel, it reads as a campaign button. Here it looks like the artist said, "Oh wait, where can I stick that logo? Here's some empty dark space."
Check out this cropped version to see what I mean about currency.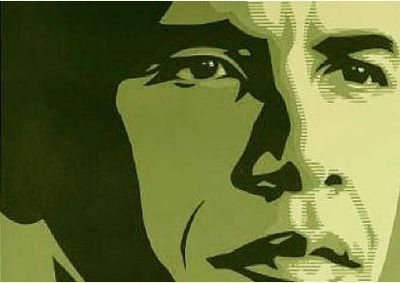 Did the campaign make a mistake to reject this image and prefer the later one? Or was that version more appealing?