Watches As Markers: An Eye For Style And Design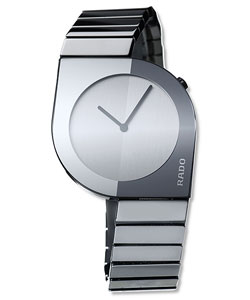 In previous posts I've discussed watches as erotic glamour and as symbols of status and power. But men may sometimes wish to wear a watch that reveals their eye for exceptional design, and this is especially true of architects, designers, artists, and men who simply love good visual design. Traditional watch design, while intriguing to watch collectors, can seem rather boring to someone wanting to make a strong statement about design itself. To that end, a watch with a unique shape and distinctly modern look (like the Rado Cervix shown here) makes a bold statement.
In the realm of watches as design, the cost of the watch is relatively unimportant. This Rado
is moderately expensive, but this is partly because this Swiss company's design philosophy emphasizes "incomparable surfaces," and they use expensive, extremely hard materials such as ceramics and space age metals to make their watches both beautiful and difficult to scratch. With design-oriented watches, the materials used are integral to the design, and, just as some of the most beautifully designed objects in my music studio are colorful plastic containers and waste baskets, some design-oriented watches make use of plastic in vibrant colors (I'll give an example later).
With high-design watches the designer is crucial, and many of the most stylish watches are produced by companies that also market jewelry, clothing, and accessories. The Italian design company Alessi is typical of this. When you go to their watch design site and click on "designers and models" you are shown photos of the 18 designers and architects who have designed watches for them. By clicking on the designer, the watches they designed are revealed, and they are wonderful in their variety. (The watch shown below is one of them.)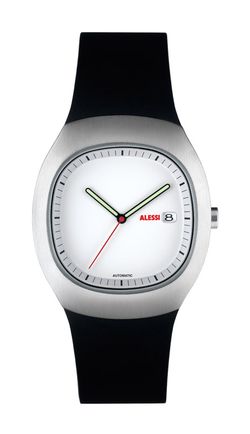 Other interesting companies emphasizing design include the Danish firms include Skagen and Danish Design and the Italian firm Movado. The Swiss company Mondaine has designed watches based on the modern clocks used in Swiss railroad stations.
As one would expect, Japan is producing interesting watch designs. Seiko sponsors a yearly project for new designs. Issey Miyake is a Japanese fashion firm that produces watches, and their site is another that features the designers themselves (hovering the mouse over the gray rectangles reveals the watches). They use watch movements produced by Seiko, and it is not uncommon for companies whose emphasis is design to use movements produced outside the firm, often using Japanese quartz movements.
This is the case with two interesting American companies. One is the San Francisco/Tokyo company TOKYObay and the other is the Encinitas, Calfornia company Nixon. While TOYKObay's orientation is more toward the traditional fashion world, Nixon's orientation is to the world of surfers, snow boarders, skate boarders. By paying serious attention to this market, Nixon has become a successful, worldwide company.
Here's part of the Nixon company statement, which is both irreverent, and deeply committed:
We make the little shit better. The stuff you have that isn't noticed first, but can't be ignored. We pay attention to it. We argue about it. We work day and night to make the little shit as good as it can be, so when you wear it, you feel like you've got a leg up on the rest of the world. We believe that you deserve a lot of respect. When you choose to wear a watch,...you deserve to have something that reflects your entire package....Dammit brothers and sisters, you can't slap on an off-the-shelf piece and consider yourself you. Can you?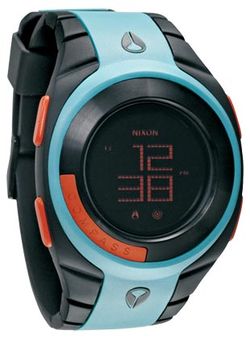 The model shown at left is the Nixon Outsider
. This is not a watch you would wear to a board room meeting, and that is precisely the point. Although the name "Outsider" likely refers to the integrated electronic compass, it also seems to symbolize the outsider attitude of a culture that focuses more on riding on recreational boards than sitting on company boards. (Many Nixon watch models are hard to come by. Some are made in limited editions, and boarders quickly snap them up.)
Such markers of style work remarkably well, and not just with watches. I recently purchased a stylish pair of Bevel eyeglasses, designed in the U.S.A. and manufactured of titanium in Japan. While wearing these I sat down with my wife at a pub bar to grab a quick meal. The man next to me asked if I was an architect. When I said, "no," he said, "You're wearing architect glasses." He told me that he designed software for architects, and from years of experience he knew how much attention they paid to the little details of visual design (the "little shit," as Nixon watches put it).
Some design companies seem to have said to designers, "You design it and we'll figure out how to make it." No wonder many architects and designers have welcomed the chance to design watches that they themselves would like to wear--watches that reveal how deeply they care about style and distinctive visual design.
[In the market for a watch? Check out the broad selection at the Amazon Watch Store
.]