Pet Week: Doggie Glamour—Big Vs. Small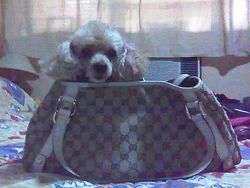 Dogs might come in all shapes, sizes and temperments, but when it comes to glamorous pets, small dogs get a lot of the love. Tiny dog owner (and tiny dog clothing designer) Paris Hilton is not alone in her love for all things tiny and canine - if photos on the now defunct Celebrity Dog Blog are to be believed, small is the size of choice among starlets all over LA.
While small dogs might have their pick of designer doggie carriers and dresses that would make a beauty pageant contestant green with envy, big dogs have a brand of glamour all their own.
Thanks, simply, to their size, big dogs often have a regal air. When they're in motion they're full of power and grace, showing off what their size can do. Capably glamorous. But when they're at rest, that's when the real power shines through. The most glamorous big dogs are almost feline in their attitude - the way they survey what's around them lets you know that they're in charge. They're Joan Collins, hair wrapped in a turban, sipping a glass of champagne while someone else (their owner) does their bidding.
So which is more glamorous, the trendy petite pooch ensonced in Louis or the grande dame clad in nothing but a collar and a haughty look?
That, I believe, is a question for the ages.
["What's in my bag? A dog!" by Flickr user creme_brulee. "Great Dane for a Walk" by Flickr user Morning Glory. Both images used under Creative Commons license.]