Disney, Shulman, And The Glamorous Ideal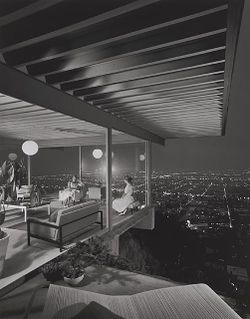 While was wasting time this morning (I mean, "getting smarter reading the internet"), I came across this brief article and slideshow on Julius Shulman, the 98-year old architectural photographer famous for his iconic photos of mid-century L.A. homes. His photo of Pierre Koenig's Case Study House #22 (at left), an impossibly futuristic home perched over glittering Los Angeles at night, represents my absolute ideal of glamour. I'm viscerally drawn to the modern home, the breathtaking view, and the people inside, just beginning a night (and decade) full of potential for fun and drama.
I'm not the only one to look at this image and see "glamour" defined, but it's not everybody's glamorous ideal. So why mine? How did I develop an affinity for that kind of image vs. something else? When?
While I'm not so sure about the "how," I do have an idea about the "when" and also the "where": Orlando, Florida, 1981. My first trip to Disney World or, more specifically, my first trip to Tomorrowland.
At first glance, Disney World isn't terribly glamorous. It's full of tired, sweaty parents and their whiny kids, nothing's even a little bit authentic, and it's more heavily merchandised than The Mall of America. But just as Disney teaches kids about manners and social mores, Mickey and friends play a critical role in helping America's youth develop their attitudes toward glamour.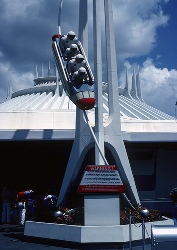 For me, it was Tomorrowland and its streamlined futuristic aesthetic that took hold. But it could've just as easily been Cinderella's castle that resonated, as it does for thousands of little girls. Or the bordellos-and-brawn-lite version of the Old West that is Frontierland.
So now I'm all grown up and Shulman's photos have replaced Space Mountain (mostly) when I think "glamour." What about you? Do you have a glamorous ideal or icon? Can you trace it back to what you loved when you were a kid?
[Space Mountain photo courtesy of Flickr user russes.]