Digital Dollhouse: The Glamour Of Home Decorating Without The Mess Or Cost
In her delightful memoir, Life Would Be Perfect If I Lived in That House
(which I reviewed here), Meghan Daum pokes loving fun at herself, her mother, and everyone else smitten with house glamour and the redecorating and relocation it inspires. Among her insights is that:
In home ownership there are two realms: the visible and the invisible, the fun and the unfun, the parts for which there are paint chips and plant nurseries and catalogs filled with doorknobs and drawer pulls and reproductions of Art Deco light fixtures and the parts for which the only gratification is that your water is running and your lights are on.
Even if you find the perfect house, you eventually have no more space for new furniture or no more money (or time) for redecorating. The fun part is over and you're just fighting entropy.
Digital Dollhouse offers an escape: all the fun, visible stuff with none of the entropy fighting. (The room above is the office in my beach house.) Sounding a bit like Daum, founder and CEO Jesyca Durchin writes on the company's blog:
Are there 12 step programs for people addicted to design magazines? My heart races when I rush to my mail box just looking for the bright catalogues from which I will buy nothing. I love to dream about redecorating my kitchen (not that I am much of a cook.) Or even just arranging my dishes (and in my imagination they are always clean and matching) just so in their perfectly nestled cupboards. Currently we have a serious pot problem (not that kind) in our kitchen. The pots are lurking in a dark corner cabinet, piled incorrectly and ready to snap at an unsuspecting hand should you want to umm…boil an egg.
But in my dream dollhouse I can have glorious dishes and pottery and pots that won't bite. In playing digital dollhouse I can arrange and re-arrange to my little hearts content. I don't think about things like general contractors or the fact that our plumbing doesn't allow for more than an intermittent drip in our kitchen should the sprinklers start going. In my dream kitchen, dishes are always new and glasses are always clean.
Digital Dollhouse, which has 289,000 members, is child-friendly--it hit big last October, when Mattel added it to Barbie.com's online game network--but its most adept and obsessed designers are adults.
Below is a room called "Glamorous", by Debbie McLaney, one of my favorite DDH designers. Those valances are made of pillows, illustrating one of the common themes of the best rooms: repurposing the rather limited elements available in DDH space to create the effects you want. (Here's an article about the technology behind the site.)
Here's another room, by designer nounoir, that not only uses the pillows-as-valance trick but also turns plates into recessed lighting and another pillow, on the bureau, into what I take to be a mirror or picture frame.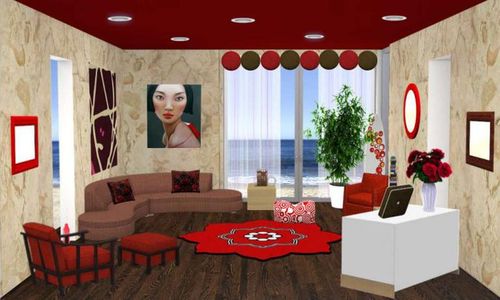 The physical laws governing DDH are different from those in the real world. Objects can only rotate on their vertical axes. Some can levitate while others stick to the walls or floor. You can hang a mirror on a window, for instance, but you can't put it on the ceiling. In this room, I used the levitation option to suggest wire plant holders.
Despite the site's name, there are very few dolls in the Digital Dollhouse world and none in the beach house. (The site also has a Victorian.) For adults, at least, that's good. Without people, the rooms have an expectant quality, inviting viewers to project themselves into these idealized spaces or to imagine their owners' stories. The sense of mystery tends to make any well-designed room, regardless of palette or style, feel glamorous. And, of course, there are no cords on the lamps.