Diaries Of A Groomzilla, Part 2
When we last saw Groomzilla, the California Supreme Court had sent him flashing back to his mother's wedding memories and pondering how he, too, might now plan a Big Day worthy of being memorialized in oil paint. But will his oh-so-practical fiancé cooperate?
Groomzillas are allergic to reason, at least insofar as it comes to a budget for their wedding day.
My beloved fiancé is cheap.  Extremely cheap.  Clothes are worn until they have holes, cars are driven until the doors fall off (literally), and weddings are opportunities for demonstrating one's command of thriftiness.  Going into our wedding, then, I steeled my nerves and braced for battle.
The first debate came when we discussed (what else?) what we planned to wear.  My fiancé announced that both of us have ample wardrobe options in our closets, and it simply made no sense to buy something new.  A few hours later, after the EMT delivered a few hundred volts through the paddles on my chest, I began my not-so-secret campaign to inspire him to new sartorial heights.
Phase One:  the strategically-placed men's fashion magazines.  This came to a crashing halt during a conversation through the closed door of a bathroom as we got ready for work.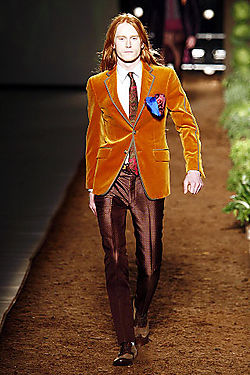 Fiancé:  "Honey, why did you put a Post-It flag on this ridiculous picture of the Etro man in the orange jacket?"

Groomzilla:  "It is caramel, not orange, and it's not ridiculous, and I think I want to wear it to the wedding."

Fiancé  "Velvet?  Seriously?  Don't you already own a suit?"

Groomzilla:  "I refuse to look like a peasant at my own wedding!"

Fiancé  "Sorry, Ma Joad, but no Etro."
Note that in the Groomzilla universe, there are no shades of grey:  we move quickly from glamazon to peasant, and the crazy train does not stop anywhere along the way (say, at Banana Republic).
Phase Two:  the rational negotiation.  Two glasses of vino into a low-key evening, I agreed to sit with my fiancé as he raided our closets to assemble some wardrobe options that he felt were tasteful, fashionable and appropriate for our nuptials.  I sat cross-legged on the floor and opined like a fashion swami flown in from India to enlighten the masses.  My pithy responses were as follows:
"I hate that."

"What about that says 'Fall wedding' to you?"

"That makes me look fat."

"That makes you look fat."

"That won't photograph well."

"That looks old."  (Note that this responses applies, generally, to all clothing that does not still have the price tag on it.)
And thus Phase Two ended in a stalemate.  Defeated, my fiance agreed one Saturday morning to make an appearance at the Barneys Hangar Sale at Barker Airport (the worst-kept and most wonderful secret to staying fashionable in Los Angeles on a "budget," as upwardly mobile yuppies define "budget" in respect of $900 Dolce shoes marked down to the fire sale price of $300).
Phase Three:  cave in.
Within minutes of scanning the racks at Barneys, I began a long-term love affair with an 80%-off Dolce and Gabbana tuxedo.  The moment of my triumph was sudden and intense.  (I imagine that this is what Rapture would feel like if I believed in such things, with 30,000 damned souls left standing outside Ross Dress for Less as God's chosen ascended to heaven in perfectly-polished Prada shoes.)  Hanging before me was a Groomzilla's perfect suit - Autumnal yet ripe for year-round repurposing, fashion-forward yet elegant, and blissfully inexpensive to the Groomzilla who hours before had contemplated kidnapping Vera Wang and forcing her to rethink menswear immediately. 
Perhaps it was the look of glee in my eyes that made my adorable cheap fiancé agree to a $600 suit splurge, or maybe it was the sheer exhaustion of dealing with my endless whining about the whole affair.  Regardless, I emerged with my perfect new outfit...and shoes....and a tie....and a Band of Outsiders suit for my fiancé....with shoes....and a tie...and a pair of Zegna linen pants for a hypothetical garden party that will likely never happen.
As we loaded the spoils of war into my trunk, my fiance turned to me and said, "Happy, baby?"  I gave him a peck on the cheek and said, "Yes, I am."
"But we still need to decide about those invitiations..."
To be continued next Thursday...