DG Q&A: Photographer Ejen Chuang On Cosplay In America (and A Book Giveaway Contest)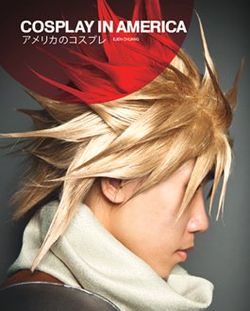 When I went to the 2009 Anime Expo to talk to cosplayers about the appeal of dressing up as anime and manga characters, I was struck by how important posing for photographs is to that appeal. Yet most of the picture-taking at anime conventions happens with lousy lighting and lots of fans in the way—hardly the ideal way to record the costumes on which players lavish so much time and ingenuity.
Fortunately, L.A. photographer Ejen Chuang, whom I met at that same convention, has now given American cosplayers a worthy visual record: a beautifully produced 272-page book called Cosplay in America. The product of a year spent traveling to conventions around the country (and a maxed-out credit card), plus countless hours of selecting and retouching photos, the book features 270 cosplayers.
Naming it the Best Art Book of 2010, Deb Aoki, About.com's Manga expert, declared that Cosplay in Ameria "captures the spirit of fun, camaraderie and creativity of the North American cosplay community." Liz Ohanesian of the LA Weekly praised the "slick and beautiful tome," which "showcases the diversity and creativity within the anime fandom," later declaring on BoingBoing that "Chuang did what I hope more people will do in the future, portrayed cosplay as art."
Ejen is still on the convention circuit, selling his book and giving cosplayers a chance to have their latest handiwork immortalized with professional polish. He'll next be at Anime Los Angeles January 7-9. In between cons—and his regular work as a production stills photographer—he was kind enough to answer some questions about what he's learned from his experience photographing cosplayers. (To see more of his photos, including new shots and web exclusives, check out the CosplayinAmerica Flickr stream.)
See the end of the interview for information on how you can enter our Cosplay in America giveaway and have a chance to win a free copy of Ejen's book.
DG: Your book is called Cosplay in America. What is cosplay and how is it different in America?
EC: Cosplay is short for "costume-play" which is basically dressing up as characters based off anime, manga, and video games, though the term has become mainstream in the past few years and now applies to any source such as films, American cartoons, music icons, even products—I've seen a few Nintendo Wiis running around conventions.
From what I gathered (as I've never been to an event in Japan), Americans have a very do-it-yourself attitude. While there are shops in Japan to purchase cosplays, that necessarily isn't so here in the States. You almost have to be MacGyver to pull together many disciplines from sewing to prop making. Some make it from scratch, others purchase parts and put it together. It is the process of creating the outfit that is part of the fun and not necessarily just wearing the outfit.
DG: What inspired you to do a book of cosplayer portraits?
EC: I haven't really seen a book done specifically done about American cosplay and I thought I'll tackle it myself. The culture has been growing for the past 20 years and is definitely getting larger in thanks to conventions and the internet.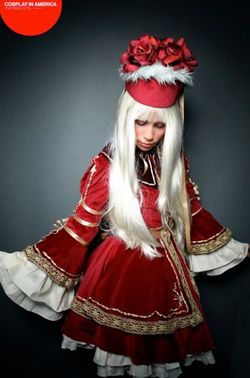 DG: What's the difference between cosplay and dressing up for Halloween?
EC: Cosplay usually refers to a specific character. For example, dressing as Capt. Jack Sparrow is cosplaying. Dressing up as a pirate is just.... dressing up as a pirate! In the broadest sense, you can say that when your father dresses up as Santa during Christmas, he is in fact, cosplaying.
DG: What's the relationship between photography (whether professional or amateur) and cosplay?
EC: There's an interesting relationship between the two. Obviously from a photographer's perspective, the extravaganza of colorful costumes and makeup of the cosplayer is attractive to the lens, while on the cosplayer side, it is a chance to be in the limelight and have their work appreciated.
DG: How do cosplayers decide what characters to portray?
EC: Cosplayers generally portray characters they feel very strongly about. Talking to many, I understand they felt if they were to put that amount of work into a cosplay, they rather pick characters they feel a strong emotional response to. As many cosplayers tend to be in their teens to mid-20s, my thoughts are in addition to having fun, stretch their creative skills and hanging out with friends at cons, cosplay can be a way for them to try out different "personalities" of their source characters wherever if either male or female. Obviously it is easier for women to dress as male characters than males to dress as female characters.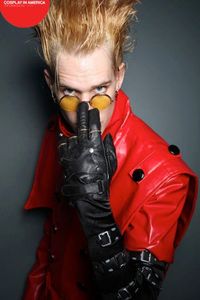 DG: You took more than 1,600 photos. How did you decide on which ones to publish?
EC: In my youth I was into anime but until I embarked on my project, the last convention I visited was Anime Expo in 2000. In the years between then and 2009 when I started the project, I had been out of the scene so perhaps 90 percent of cosplayers I've photographed, I don't know which series they are from. In a way, it is liberating. I have no bias or preconception about any series or character. I could choose based on their personality and pose. I specifically looked for something about that cosplayer that grabs me. From an edited collection of around 1,000 cosplayers, it took six months to narrow it down to the 260 cosplayers in the book.
DG: One of the cosplayers you interviewed called cosplay "a chance to escape that which binds us, holds us down in our everyday lives, and [it] gives us chance to let our imaginary spirits soar high above all that makes us feel weak. We can shed our everyday lives and feel free to express ourselves." Another one said it's "just a dorky little hobby where people play dress up." What would you say is the appeal of cosplay?
EC: For the younger attendees, it is a chance to let loose and have fun, another layer to add to the convention experience. As a teenager, the need to fit in is strong and so in a way, this allows them to join a community.
For those older ones, it is just a release mechanism. Obviously in life we have our jobs, relationships, school and so forth and to take a vacation from that for one weekend is to take a moment out of the worries of bills, and other adult concerns. I spoke to several cosplayers who have graduated college and move to their working life—and use conventions as a chance to meet up with old friends—similar to a reunion.
For others, it is a chance to test out their abilities to create and personalize to their own individual tastes. For example, at one convention in Florida, I noticed a character whose outfit was filled with beads. The original character's outfit did not include that large amount of beads but because the cosplayer so loved beads, she weaved her passion into it. In the end it still worked—the character is identifiable and the cosplayer has a chance to personalized the work.
DG: You're still taking photos as you go to conventions to sell your book. Do you have any favorites to share with our readers?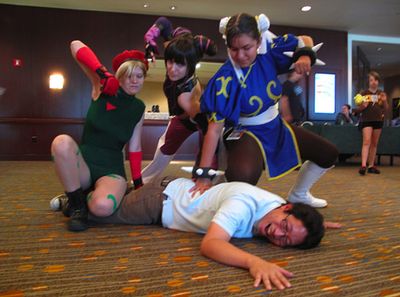 EC: Truthfully, my favorite photos are the ones where I'm interacting with the cosplayer. So many folks have photos of themselves standing next to a cosplayer. For me, I like it if they point their weapon at me, or they are jabbing me, or something of that nature. Here I am at AnimeFest in Texas getting hammered by the gals of Street Fighter.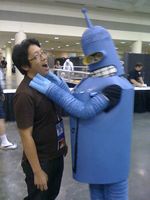 This was taken at Otakon, the largest anime con on the East Coast where Bender from Futurama chokes me—I didn't have any beer with me and you know Bender loves beer!
This one is from Miami where Red Skull, a supervillian from the Capt. America comic books is about to execute me.
Despite all the work that goes into the book and the tour, it is definitely a life-changing experience! I plan to be at another 20 conventions next year and after that start working on other books related to cosplay but not necessarily about cosplay. Thanks for the interview!
Order your own copy of Cosplay in America here.
We're happy to offer a free copy of Cosplay in America to one lucky reader. To enter, please leave a comment telling us a character you'd like to dress up as and why. (Don't worry about practical considerations; we won't make you model the costume.) The contest deadline is midnight Pacific Time on January 10, and the winner will be selected using Random.org. Contest open to U.S. residents only.
[All photos copyright Ejen Chuang and used by permission.]