DG Q&A: Karen Robinovitz
When Marie Claire magazine challenged Karen Robinovitz and her friend Melissa de la Cruz to make themselves famous—defined as having their photos and bold-faced names in the gossip columns—in just two weeks, the assignment led to a book
which in turn led Robinovitz to a career-shaping revelation: She knew and cared more about marketing than her publisher. A lot more. She was, in fact, "a marketing person," born to come up with clever ways of attracting attention, not only to herself but to all sorts of paying clients.
Nowadays, her favorite brand isn't a corporate client but her own company Purple Lab and its line of stylish lip glosses, Huge Lips Skinny Hips (available online here). On her PurpleBlab blog, Karen chronicles the not-always-glamorous process of taking her venture from idea to reality, promising to "dish all the dirty secrets I learn from labs and manufacturers and what we go through to line up distribution, financing, PR, events, etc." She kindly agreed to dish a bit with DG.
Read to the end of the interview to learn how to win a sample of Purple Lab's Worship Kate lip gloss.
DG: In blogging about your company and in How to Become Famous in Two Weeks or Less, you've taken some of the mystery out of things readers find glamorous, whether that's starting a beauty-product company or getting your name in boldface type in the gossip columns. Do you think readers find the things you write about less glamorous after reading your behind-the-scenes depictions? Do you yourself find them less glamorous, or perhaps glamorous in a different way?
KR: I don't really know if readers find that the true behind-the-scenes moments kill the glamour factor. I think that all of the things that seem glamorous are not ever as glamorous in reality — models always say how their lives are trying and hard and yet, they seem so full of fantasy. I am just sharing my own experience, which is sometimes glamorous and sometimes just the opposite, and I can only hope that people find a bit of themselves, something to relate to or an inside look at something they want to know more about, in my experiences.
I am anti-velvet rope so for me, the blog about the making of Purple Lab is about breaking that rope down and giving, in a sense, a blueprint of starting a business. I would hope that someone can find it useful and know the pitfalls I fell into so that they don't.
DG: In How to Become Famous
, you and Melissa write, "We have been obsessed with fame and those who are famous for as long as we can remember. We longed for attention — glamorous dresses, standing ovations, and a reason to thank the Academy." Why do you think people (including you) long to be famous? Are those dresses glamorous by themselves, or is it the fame and attention that makes them glamorous? Has your fame lived up to your dreams?
KR: I would never say I am even remotely famous. But I can't lie and say I don't like a little attention! But the reason I think that fame is so addictive for everyone — and the millions of celebrity blogs and magazines are a testament to that — is because it represents fantasy, escape, the ability to have whatever you want, go wherever you want, buy whatever you want, go to the most exclusive events, and connect with amazingly talented people. Plus, there are the perks that come with fame — swag, travel, private jets! I would not say that now, as someone in her "early late thirties" I crave the same things I did when I was younger — i.e., that kind of fame. But I do still crave the fabulous dresses.
DG: Since discovering your calling as a marketing person, what have you learned about business that surprised you?
KR: I could go on and on about this. Really, the back end of the business and how much is involved was a huge surprise for me... what it takes to manufacture, ordering minimums, branding packaging, deadlines, working a year in advance to launch a product (and that is considered a tight deadline!), what goes into shipping and not just sell in with retailers — but sell through. There are so many aspects to it that it is often overwhelming, but I welcome the challenge and am excited to see where it all takes me.


DG: You write that your lip gloss/plumper, Huge Lips Skinny Hips, which contains the appetite suppressant Hoodia, is "NOT about being skinny." What is it about?
KR: I think we all — as women — think about our hips (and our lips!). Skinny for one woman may not be skinny for another, but regardless of size, we all want to wear our "skinny jeans," be they a size 2 or a size 20. So the name is cheeky and playful but not intended to be taken so seriously as far as a directive for women to be skinny. There is a color in the collection called "Love Your Thighs," which is my hope for all women — we need to embrace ourselves and stop being hard on ourselves.
The fact that the gloss contains an ingredient that has been known for centuries for its appetite suppressing qualities does not mean I am suggesting that women don't eat. The point is that this is to act as your intention setter, perhaps something that helps keep you conscious and mindful of what and how you eat. At the end of the day, it's not good for anyone to be double fisting cupcakes when they're full! And if this gloss is something that enables someone to feel like she has some support at a cocktail party or a trip to the bakery, that's the point. Plus, it's a deliciously amazing gloss that is light, moisturizing, and yummy.
DG: You spent a lot of time and money on the packaging of your products, both the "components" that actually hold the gloss and the boxes that it comes in. Why did you decide to spend a few dollars on a box when most beauty products spend 50 cents or less?
KR: I am driven and inspired by design and for me, it's a very important aspect of Purple Lab. The products themselves have to look and feel good and every touch point of every aspect of it should too. I would rather make less money and deliver a fantastic product that women will love the look of, love the feel of and have fun buying. The price of the box will eventually drop as we order it in larger quantities — right now, we're ordering at the minimums because we're a small brand. As you order more, the price goes down. Besides, I wanted this to be fresh, different, and sexy. That's worth the extra money for me — and I would rather pay for it than the buyer.
DG: I almost never wear lip gloss, as opposed to lipstick, because I don't like the sweet flavors it comes in. Why does lip gloss always have a flavor? Why can't I buy flavorless lip gloss?
KR: Every product is not meant for every woman. We all have different tastes. I happen to like a sweet tasting and smelling gloss. We may go into a product with no scent or flavor at some point and hearing that definitely inspires me to create that, because glosses don't HAVE to have a flavor.
DG: You had a lot of fun naming your gloss colors. What's your favorite and why?
KR: That is like asking a mother which child she likes better! It's impossible to answer because I'm so emotionally attached to all of them. They are my babies and the names of each shade are tributes to what inspires me everyday.
The DG Dozen
1) How do you define glamour?
It can be understated or in your face and it is impossible to make one clear definition because ultimately, glamour is in the eye of the beholder. You can feel glamorous which is really about evoking confidence, positive energy, and eye-popping style. You can buy something glamorous — be it a crystal chandelier or a pair of python shoes — that takes your breath away. You can wear a dress that adds instant glamour to your life.
2) Who or what is your glamorous icon?
I have so many — Kate Moss for the effortlessly chic way she wears clothes, Jane Birkin for her relaxed studied casual beauty, Bianca Jagger for her va-va-va-voom 70s appeal in YSL and Halston, Carine Roitfeld of French Vogue for her hard femininity and extreme shoe choices, Warholian icons like Edie Sedgwick and Baby Jane. There are plenty more!
3) Is glamour a luxury or a necessity?
Glamour is a state of mind and I don't believe it should be a luxury — I think every woman should have her glamour moments whether she has a red carpet life or not.
4) Favorite glamorous movie?
Rear Window
— Grace Kelly makes me melt!
5) What was your most glamorous moment?
My wedding. Not only was it the happiest moment I can imagine, but it was full of love, joy, excitement, wonderful family and great friends, but perfect makeup and the most beautiful custom Zac Posen creamy silk gown, trimmed in hand-dyed pompoms and a hint of curly ostrich feathers!
6) Favorite glamorous object (car, accessory, electronic gadget, etc.)?
A private jet with Hermes interior —I have yet to see one but, OMG!, THAT is glamour!
And any piece of furniture at the Moss store (www.mossonline.com)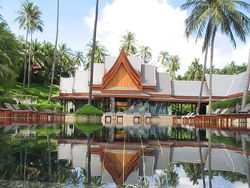 7) Most glamorous place?
Amanpuri in Phuket — beautiful, peaceful, remote and where I honeymooned so it's full of romantic memories
8) Most glamorous job?
Any job that inspires. For me, it's being able to create a beauty brand inspired by everything I'm passionate about. I am truly appreciative of the path I'm on, no matter how hard and overwhelming it is - and it is!
9) Something or someone that other people find glamorous and you don't?
Wearing too many diamonds at once.
10) Something or someone that you find glamorous whose glamour is unrecognized?
I'm stumped right now!
11) Can glamour survive?
Absolutely. It doesn't need to be expensive to be glamorous. Some of my most glam moments are when I am home and realize I have nowhere to be, no deadline to meet and total freedom. That is my ultimate luxury and glamour moment. As long as women want to feel special, glamour will be there, waiting...
12) Is glamour something you're born with?
Yes and no. You can be born with a glamour state of mind and tastes and lifestyle but you can create it for yourself as well. Glamour doesn't have to have a price tag - it can be a cheap leopard print vintage hat.
EITHER/OR
1) Angelina Jolie or Cate Blanchett? Can I say both? They are opposite sides of the same coin and I appreciate each equally.
2) Paris or Venice? Paris
3) New York or Los Angeles? NY (actually, bi-coastal!)
4) Princess Diana or Princess Grace? Di
5) Tokyo or Kyoto? Tokyo
6) Boots or stilettos? Stiletto boots!
7) Art Deco or Art Nouveau? Deco (but only in doses)
8) Jaguar or Astin Martin? Astin! No question.
9) Armani or Versace? Versace
10) Diana Vreeland or Anna Wintour? Oh, that is a cruel question! They're both two icons of glamour who have influenced fashion and design tremendously. I like quoting Diana more than Anna though.
11) Champagne or single malt? I don't drink. If I had to say, champagne.
12) 1960s or 1980s? 60s
13) Diamonds or pearls? Diamonds!
14) Kate Moss or Naomi Campbell? Kate, Kate, Kate!
15) Sean Connery or Daniel Craig? Sean
Karen has generously offered to give one lucky DG reader a tube of Huge Lips, Skinny Hips gloss in the appropriately glamorous Worship Kate tint, a rich pink with a warm mauve-ish hue and just a hint of glitter. For a chance to win, link to this interview or to the DG home page from your blog, Facebook page, or Twitter. Then post a comment below with the URL or your Facebook or Twitter name. The winner will be chosen on Friday, July 10, using Random.org.
[Kate Moss by Flickr user Deon Maritz under Creative Commons license. Amanpuri pool by Flickr user erm. under Creative Commons license.]