DG Q&A: Author Alyssa Harad On The Allure Of Perfume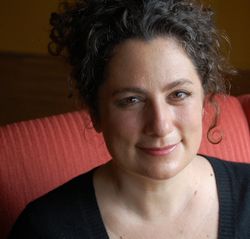 In Coming to My Senses: A Story of Perfume, Pleasure, and an Unlikely Bride
, Alyssa Harad tells the story of how she found herself obsessed with perfume and how, through that obsession, she came to integrate the sensory and creative sides of her personality into her intellectual life. The book recently came out in paperback, and Alyssa begins a West Coast book tour this Thursday in San Francisco, followed by L.A., Portland, and Seattle (details here). Tomorrow we'll be running an excerpt from the book, and you can enter to win a copy here. As an introduction, DG's Virginia Postrel talked to Alyssa by phone.
VP: I like perfume, but I find it somewhat intimidating. It's like wine—it's complicated, hard to learn about without a lot of investment and direct experience. You can't just read about it or look at pictures and get a sense for it. In your memoir, you talk about going to a local smelling salon, which is not something most of us have access to. And you also do this great thing where you introduce friends to perfumes. You bring them over samples that you think they might like and you tell the stories of the perfumes and you let them try them. For people who don't have either of those options, what do you recommend?
AH: I didn't have either of those options when I started out. I began reading the blogs. And I started with Now Smell This, which is a very typical place for people to start, and Bois de Jasmin. Both of those blogs have archives that you can search by perfume and Bois de Jasmin has an archive you can search by note, so you can look for things that you think you like. Then I would take that new language and order some samples or you can go to a perfume counter, if you're lucky enough to have one—I didn't really have one—and try a few things. It does get pricey, but it's a lot cheaper than wine, I can tell you that. If wine came in $3.00 samples, I would know a lot more about wine than I do right now.
VP: Three-dollar samples through the mail too…
AH: Exactly. For me it was very similar to learning about a new cuisine. The first time you have Thai food you're just sort of dazzled by all the flavors. And then the third time you have it you learn that, oh, that thing you really like is called lemongrass. And then you go read a cookbook and you learn that all the creaminess comes from coconut milk. So each of these things has its own vocabulary, and I think maybe the reason perfume is intimidating to people, besides the fact that the industry has given us absolutely no way to organize and decipher what they produce...
VP: What do you mean?
AH: When you go to a wine shop it's organized by region and type of wine, right? So you know you like cabernet, you go look at the cabernet section. But perfume is a branded commodity, so each brand is trying to sell you a little piece of its empire, and each brand has its own array of scents within the brand. And the myth, the fiction, is that you will find everything you need within a certain line and you'll be loyal to that brand.
VP: Which is interesting, because fashion doesn't work that way. The idea of a fashion brand is that the brand has a personality.
AH: The lines, when they're good, do have personality, but there's another way to view perfume beyond the brand, which is by of language of scent that's common to perfume. So you might figure out that you really like the smell of vanilla or you really like the smell of vetiver, which you might even not know what that is or what that smells like until you start reading and smelling perfume. And then when you do, there's really no way for you to go to a mainstream perfume counter and find all the vetiver perfume.
The genius of the Jo Malone brand is that they actually named the perfumes after the things they smelled like. And a few of the niche brands began with perfumes that were decipherable as photorealistic smells. If you knew it smelled like in the world you could match it to the perfume. The Demeter line, which is a super fun line that shows up in some high-end grocery stores and hip boutiques, has a whole bunch of very, very simple one-note perfumes that have names like Dirt
and Play-doh—and that's what they smell like.
I started with perfumes like that—that were easy to decipher. It's so rare for most people to really think about smells that people feel sure they have no vocabulary, or even that they don't smell anything at all, until you put it in front of them. So I have this experience all the time where I'll tell somebody, "Smell this. It smells likes lemons and basil." And they look at me like I'm crazy and then they smell it and they say, "Oh my god, it really smells like lemons and basil." (laughter) They're so shocked that they're able to identify the scent. And I have to say, I have never seen someone have that experience more than once in a row and not want to have it again. It's a very addictive experience to discover that you have this capacity to identify things in the world. And, you know, that's the beginning of the end.
VP: One of the these things I found frustrating about your book is that you would talk about a scent but you would never give its name, and I wondered why that was.
AH: The main reason, as I do state in the author's note, which is that the scents are discontinued and reformulated so quickly that I was genuinely afraid that I would describe things in the book and then people would go and find them and they would smell nothing like what I had described. I didn't want people to be thinking, "She's crazy. This doesn't smell like that." (laughter)
The more subtle reason was that there were so many brand names in the book that it began feel like an infomercial for perfume, and there were moments when I really wanted the reader to be thinking about whatever imaginary scents they were conjuring up in their head and the emotion of the theme, rather than writing something down on their shopping list.
Then the final reason is that some of these perfumes don't smell that way to me anymore. So the perfume I'm describing to you is the perfume as I smelled it in that moment. The biggest one of these for me is the honey perfume that I talk about in chapter two.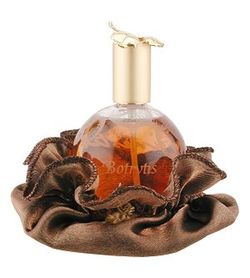 VP: The one your now-husband smells and says, "It smells like you."
AH: That perfume—well, first of all, the name of that perfume is Botrytis
, which you probably know from the wine world is the noble rot. It sounds like a disease, because that's what it is. So I would have had this long explanation of why I fell in love with a perfume named after a disease in the middle of this touching love scene. (laughter) So, there was that sort of writerly problem.
Also I still really like it a lot, but it's not quite the same thing to me now as it was when I first smelled it. I wanted a chance to explain that to people when I revealed the name. I assumed that the book would have an afterlife online and that it wouldn't be the beginning and the end of the reader's experience. So it didn't seem too torturous to have people wait until I told them online what all the perfumes where.
I have been a little behind, of course, in putting them all in one place for the website. But in the meantime, if people really, really want to know something, they can just ask me. I tell people all the time.
VP: You kept discovering people who love perfume but never talk about it, or at least you didn't know about it. I remember one of your husband's super macho relatives was an example. Is this some kind of "don't ask don't tell" thing, or was it just that it hadn't come up because you hadn't been interested in perfume?
AH: Probably a little bit of both. I think for the people who collect it—who have more than one bottle or maybe more than 10 bottles—it's kind of a don't ask don't tell thing. Unlike collecting art or even collecting wine or music, there's no broader cultural context for collecting perfume. So it really is a genuinely odd thing to do right now, and I think in recent years perfume has almost become taboo. There's been a lot of blowback I think, though people don't wear perfume in the extravagant public way that they used to wear, say, in the '80s when everybody could still smoke in public. So people might be wearing a lot of perfume, smoking, and wearing a lot of hairspray. (laughter) There was just a lot more olfactory noise going on. Now everybody is trying to be very clean, and there's a lot of talk of allergies, and perfume is a very easy target. Most workplaces are scent-free. So it's not something that people comment on.
———
"Unlike collecting art or even collecting wine or music, there's no broader cultural context for collecting perfume. So it really is a genuinely odd thing to do right now, and I think in recent years perfume has almost become taboo."
———
VP: When you say most workplaces are scent-free, do you mean they are de facto scent-free or they actually have "don't wear perfume" policies?
AH: It depends on where you work. There's definitely a lot of talk about the "office scent." You can see that in the women's magazines. If you're going to wear a scent at the office, it's presumed that you will wear something that's very quiet and very clean and will not offend anybody. And many workplaces actually have a no-scent policy. If you work in any aspect of health care, for example. There are a lot of nurses in the perfume community and they're full of these little tricks that they do to just have a tiny bit of scent to keep them going through the night shift.
VP: I first heard about the book by reading an excerpt in the Chronicle of Higher Education, which I thought was a brilliant place to put an excerpt because the book is only ostensibly about perfume. The bigger story, as the title suggests, is about an intellectual—specifically an intellectual woman, specifically a feminist intellectual woman—learning that it is OK to find pleasure and meaning in something that's sensory and supposedly frivolous. Although we come from very different places, I identified with that.
I'm always struck by how people who would never dismiss music or food or even sex—it's fine to talk about sex all day long—have so much trouble with visual or olfactory or tactile pleasures. One way to turn this rant into a question is to say one of your friends said, "I just don't want to be the kind of woman who wears perfume." What is that statement about? What is she getting at?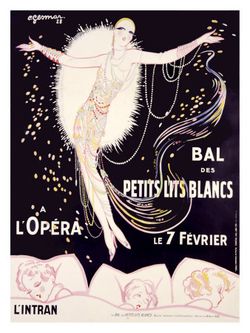 AH: Oh, god, you would have to ask her. I feel like I knew the answer to that question before I got into perfume, because I felt that way, and then somewhere along the line the number of people I knew who wore perfume and the ladies who wore it became so diverse that I had trouble conjuring up who that woman was that I was afraid of.
I know that for me it has a lot to do, not even so much with being intellectual, as there's a certain kind of traditional femininity that I associate or that I associated—I've changed quite a bit on this—with things like blowing your hair dry on a regular basis and wearing high heels and wearing foundation makeup every day. A sort of very groomed, very high femme presentation that was very straight in all senses of the word.
It wasn't so much that I didn't like people like that—it was just that I had failed. (laughter) Growing up in Boise, Idaho, I was in the land of ladies who are very put together like that. And I always thought there was some kind of rulebook that I had missed out on. It wasn't even that I was in rebellion—I was just sort of failing. (laughter) And so I had to go and look for other ways to be a girl and to be a woman, and they didn't seem to come along with things like perfume. So this adventure, both with the perfume and dealing with becoming a bride, was my way of rethinking and feeling my way into that kind of femininity, and looking for all the ways it could be expanded and maybe all the ways that I had been wrong about it. And it turned out that a lot of it was actually very important to me and connected to creativity as well.
So for me this isn't as much a story about going from academic work to creative work as it is about going from intellectuality to sensuality.
VP: People often say, "Why are shoes so popular for women? Why are they so meaningful?" and one answer is, "Well, the reason is women of all sizes and shapes can wear beautiful shoes." Given my history with shoes, I'm not entirely sure that's true…
AH: Me neither. (laughter)
VP: …but it's sort of true. And the same thing is true of perfume. You don't have to be a size two or even a size six to wear really wonderful perfume. Maybe some of the appeal is that because it is so intangible some of the constraints that women are used to thinking about are not there.
AH: I think that's definitely true. I know that for me perfume is a way of embodying the kind of invisible selves that you carry around with you. It's a way of making a fantasy self into something that's present, although perhaps still invisible. But not maybe as invisible as it was when you were just thinking about it, because people do smell you and you smell yourself and you walk a different way, and you you present yourself to people a different way and you might, if you're me, be inspired to make your outsides match those more tangible fantasies that you're now having.
VP: Can you give us some examples of ways that you do that?
AH: With these sort of grand French perfumes that are very "night of the opera" perfumes, I can be fairly messy but be wearing vintage jewelry and some red lipstick, and I just feel dressed up. I no longer feel like a schlump (laughter) without necessarily having to fit into the clothes that might match that, or wear shoes that make my feet uncomfortable. It gives me a very easy way of trying on a whole new persona and carrying it around with me during the day.
I was just talking to the manager at Lucky Scents, the Scent Bar in L.A. When he shows people how to pick a perfume he tells them that you'll recognize it because you'll recognize a piece of yourself. You already know the scent—you just haven't met it yet. (laughter) You haven't met the scent that matches that piece of yourself that you've been carrying around. I think that's a beautiful way of putting it. When you smell these perfumes that profoundly move you, it's an experience of recognition. In the same way that you might recognize yourself in a book or a painting. There's that piece of your experience that you didn't think was possible to articulate.
VP: Are there any invisible selves that you've tried on this way where after a day you thought, "That is not me"?
AH: (laughter) Well, I have a few that aren't very sustainable, where I wear the perfume very rarely and when I do it I very rarely wear it more than one day in a row. For me the best examples of that are these big, white flower scents. White flowers are the really rich, lush, heady flowers like lilies and jasmine and tuberose and gardenia. Jasmine now, I think, is very much a part of me, very comfortable. But there's a tuberose scent called Carnal Flower by Frederic Malle, and I wear it when I want to be a diva. (laughter) And that doesn't happen that often. Every now and then I want to feel like I own the spotlight.
VP: So picking one of the themes of my own book, which is coming out in November, one of the things I liked about your book was that you often refer to distinctive kinds of glamour—you actually use that term—that appeal to different longings and different ideals, which is a big theme of my book. You talk, for example, about a perfume with "a bookish, coffeehouse kind of glamour" that made you "feel like a hip, black-clad version of myself—thinner and longer-legged, with one of those rumpled haircuts and the black-framed glasses all the people who intimidated me in college used to wear." I'm curious to what extent your intellectual life, or your career, has been shaped by glamour?
AH: Now that I think about it, that it's absolutely central to my intellectual and creative life. I enjoy being dazzled, I'm an enthusiastic person, I like being a little overwhelmed and swept up but then because I know that about myself, I'm also suspicious of it. So I think I've spent a lot of time either being entranced by somebody and their ideas, because they have a kind of glamour for me or being on guard, reacting against glamour and trying to not be enchanted and besotted. (laughter) I think, you know, that arc that we were talking abour—from intellectual to sensual—part of what came along with that was allowing myself to be enchanted and enraptured without worrying too much about whether I was committing some kind of political or moral sin. And I now really, I think, have a much easier relationship to glamour and I have a lot more fun with it. I just admire the magic tricks that other people perform to produce their glamour. Even if I can't myself, I really appreciate that in other people.
VP: I mean, I think there's a rarely remarked upon glamour—the bookish coffee house kind of glamour. There's a glamour of the intellectual life…
AH: Absolutely.
VP: …that has nothing to do with a specific person's performance of it. It's just very compelling, the same way a person with a different sort of personality might picture, say, the glamour of being a movie star.
AH: I was thinking about how glamorous my dissertation advisor was to me, and still is in many ways, and what she looked like and how she performed that glamour and how much we were all very crushed out on her. I think a lot of teachers have glamour, no matter what they look like or what they wear, just because of that relationship.
VP: Going back to perfume, you wrote about the success of expensive perfumes—Joy and Scandal—during the Depression and you pointed out that they sold way too well to have just been bought by the rich. What do you think is the significance of luxuries like that in difficult times?
AH: If I can be a little bit obnoxious and quote myself, I say in the book that it's a kind of promise. It's a covenant kept with the idea that life should be about more than their survival. Luxuries, I think for many people who will never own a piece of art or anything that has been validated as being high culture, are a piece of beauty. I used to have these quarrels with the social workers in my life about the hierarchy of needs, where there's this idea that people, first they have to have shelter and food and then they can start to think about the next thing and the next thing and the next thing.
A friend told me a story about this woman he knew who was homeless and was kind of traveling and sort of sleeping with people, so that she would have a place to stay. The first time she got some money she bought a bottle of perfume instead of buying food or putting that money down on a room to stay for the night. Because it was something that she could keep with her, and it was a piece of herself maybe that she didn't have access to in that kind of extremity.
VP: You talk about how swapping "turned something that was supposed to be about conspicuous consumption into a gift economy." That strikes me as kind of a defensive statement, as if there's something wrong with buying and selling. I understand that it's nice to get stuff cheap or free because you can go ahead and enjoy yourself more, but does this reflect a view that it's OK to have beauty but not to pay for it? How do you feel about commerce?
AH: Many of these perfumes were made deliberately hard to access. They're only available in a few outlets or maybe only one city. They are not as expensive as a pair of Manolos but they for regular folks, $150 to buy a perfume is a lot of money. I and many people I've spoken to feel the presence of invisible velvet ropes when they go into those really high-end boutiques and department stores. And so to me it's this kind of joyful thing that the swapping culture just removed all of that.
When you're getting these things in the mail, it's not about the fancy bottle anymore and it's not about the place where you bought it. It's really only about the scent, and it's coming to you wrapped in bubble paper. (laughter) It's got a handwritten label on it, and so now suddenly it's about people sharing things with each other. And I really love that inversion.
The bigger question about whether or not I've come to terms with commerce I think is an open one. I would hope that I have a much more nuanced relationship to it now than when I began. I think I had some kind of reflective grumpiness, from my long graduate school training, about things that were marketed to or created specifically for people who have a lot of cash and a lot of power, because I'm kind of always rooting of the underdog. Now I think of it in a much more complicated way. I think this kind of coveting and wanting a little piece of luxury is something that runs the socioeconomic gamut.
And also sometimes things that are very cheap are much more exploitative in terms of the labor structure behind them than things that are very expensive and being made by one person. So it's complicated, but I think that as long as there's serious economic injustice in the world I would hope that my relationship to consumerism is ambivalent and in progress. I hope that I would always sort of be questioning my ongoing relationship to that and how it works and what I'm buying into.
———
"For me perfume is a way of embodying the kind of invisible selves that you carry around with you. It's a way of making a fantasy self into something that's present, although perhaps still invisible."
———
VP: My limited experience is that the perfume sales people in high-end places are not especially snooty compared to, say, how one might assume people selling similarly expensive dresses would be. Oddly enough I find it less intimidating to go to the Frederic Malle counter at Barney's than to a counter in Macy's.
AH: I think in order to sell perfume at that Barney's counter, you have to really like perfume. So you have to like it and know it and enjoy it and be able to talk about it in a way that goes beyond making your commission.
Most of the people who work the mid-range or low-end counters in department stores are paid directly by the brand that they're selling, and they're often hired part-time. They're rarely trained, and they often only know about the two or three things that they're trying to push that have just been released.
The big exception to that in Nordstrom. Nordstrom's has a special program that they train all their perfume people with. That's also a place that you can go where it's policy to make you a sample and they just sell it in a completely different way.
VP: Some perfume enthusiasts believe only natural fragrances are acceptable, what you call perfume's original language. You don't make that dichotomy. You embrace modern synthetic chemistry as well. Why is that? What is your philosophy?
AH: Because I really like perfume and I want as much good perfume as possible. And so I want perfumers to have the palette that they want to work with. Part of it is my personal aesthetic preference. When you work with synthetics it's much easier to control the architecture of the perfume. It's much easier to control the way the perfume unfolds on your skin and the amount of space there is between the different smells that you're using to create the chords or the sort of melody of the perfume and you have a much wider range to work with. But really, it's just because I'm a greedy hedonist. I just want as much good art as possible.
For details on Alyssa's appearances in San Francisco, Los Angeles, Portland, and Seattle, go here.
Enter to win a copy of the book here.