DG Q&A: Artist Ria Brodell On Heroes And Self Portraits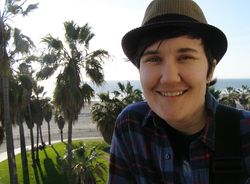 Boston-based artist Ria Brodell doesn't think of her work as glamorous, but when I happened upon her "Self Portraits" exhibit at the Kopeikin Gallery in West Hollywood, her drawings struck me as perfectly expressing the way glamour works as an imaginative process. Her drawings capture how she projected her ideal self onto slightly mysterious, impossibly graceful figures—in this case, male icons ranging from classic movie stars like Gene Kelly and Cary Grant to Catholic saints and children's toys. Like her very different "Distant Lands" drawings, which depict strange and whimsical animals, the portraits are at once charming, sweet, and slightly subversive. (This YouTube video shows Ria at work on her Distant Lands creatures.) Her exhibit will be open until March 6.

DG: How did you select the figures you depicted yourself as in "Self-Portraits"? Why these particular men?

Ria Brodell: The figures I chose were all men I connected with in some way as a kid. If I could have grown up to be a man, I would have been a man like them. Sometimes it was their style, the way they dressed, their hair, the way they carried themselves. Sometimes it was their über masculinity. Of course, in regards to the movie stars, all of this came from their depictions in the movies and not necessarily their real selves.

Self-Portrait as a Mountain Man (2008), Self-Portrait in a Fedora (2009), Self-Portrait as a Coastal Man (2009)
© Ria Brodell, used with permission of the artist

As far as the more general portraits, such as "Self-Portrait as a Mountain Man" or "Self-Portrait in a Fedora," I am connecting with a type or style of masculinity, the rugged outdoorsman or the dapper gentleman.

As a kid I desperately wanted a fedora, but growing up in Idaho, the closest thing I could ever find was an "outback" hat. Which is not very close at all.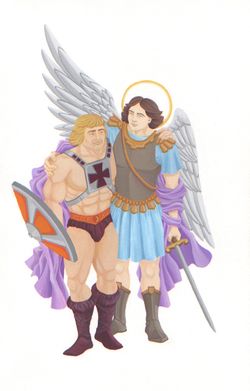 DG: Icons like Cary Grant and Gene Kelly—and even Ken and your "Miami Vice Dude"—have an obvious Hollywood sort of glamour. But you also draw on traditional images of Catholic saints. In last year's exhibit, "The Handsome & the Holy," one of the most charming drawings was called "He-Man and St. Michael Find They Have A Lot in Common." What do they have in common? What unites movie stars, saints, and toys like G.I. Joe and He-Man?

RB: When I began this series I remembered a drawing I made for my First Reconciliation book in second grade (I went to Catholic school). I had drawn a picture of St. Michael that I was very proud of and I showed it to my Grandma. She told me he looked more like He-Man. I remember feeling ashamed for some reason, perhaps knowing I should have shown St. Michael more reverence. I used to draw He-Man all the time, practicing over and over until his muscles looked right. Looking back now, He-Man and St. Michael had a similar appeal to me, strong warriors, fighting for good. As far as what unites movie stars, saints, and toys like G.I. Joe and He-Man, for me they all represented an ideal, whether it was physical aesthetics or moral values. In combining them all for "The Handsome & The Holy" I was hoping to unite my "queer side" with my religious background because they are equally present in my life. DG: Your drawings have been described as "achingly sincere," "both earnest and humorous," and "intently self-aware schmaltz." Their humor is gentle and sweet, not ironic—juxtaposing He-Man and St. Michael is funny, but you are, at the same time, owning up to your desires to be like them. Is it hard for a contemporary artist to portray desire and identification without using irony to maintain your cool? Does glamour risk condemnation as kitsch?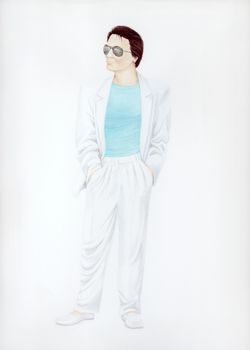 RB: I don't think I'm intentionally trying to be funny in all the drawings. I'm trying to be completely honest, but I think the juxtaposition of some of these subjects is just naturally odd and therefore funny. Sexuality, gender identity, and religion can be very serious, often complicated subjects. I want to create work that deals with these subjects in a simple and not heavy-handed way. Of course there is always a risk of the work having unintended consequences, such as being deemed "kitsch." With this work there is a bit of background information needed. On the surface they can appear to be just glamorous self-portraits or "dress-up" but my hope is that people look further than that and begin to think about gender identity and sexuality outside of our society's strict definitions.

DG: One of your drawings is called "A Picnic With Audrey Hepburn." It shows Audrey from the back, but there is no one with her. A critic described it as "a picture of mythic femininity, here elusive." But the title suggests the perspective not of Audrey but of her unseen date, inviting viewers to project themselves into the scene. What inspired this drawing? What does Audrey Hepburn mean to you?

RB: As a teenager I became slightly obsessed with Audrey Hepburn after seeing her in "My Fair Lady." She was not only beautiful and glamorous but also a humanitarian. For me, this drawing represents the complexity of figuring out ones sexuality, especially queer sexuality, the desire and simultaneous shame I felt. How could I possibly desire a woman and not just any woman, but Audrey Hepburn? Feeling unworthy of her, I chicken-out on our date.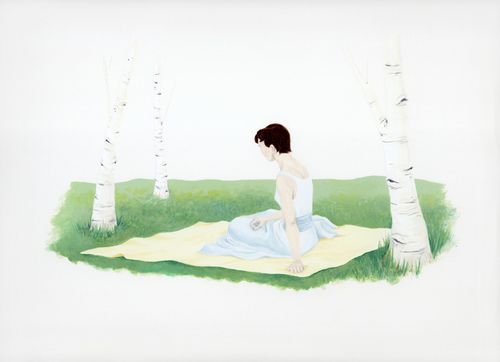 A Picnic with Audrey Hepburn, 2009, gouache on paper
© Ria Brodell and used with permission

DG: For The Superheroes Project to promote Boston-based artists, you chose The Flash (one of my favorites) as your alter ego. Why did you pick him? RB: I picked The Flash, both because of his awesome costume and because he's so simplified. It's just him. He doesn't need any weapons or a tool belt or gadgets. There's something nice about that. No extra baggage.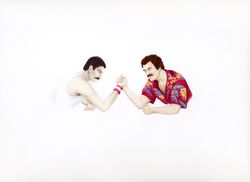 DG: When Freddie and Magnum arm-wrestle, who wins? RB: I'm not sure if either of them "wins." I think of this drawing as sort of a back and forth. Both Freddie and Magnum as male icons flirting with the signifiers of heterosexuality and homosexuality at the same time. But, if I had to pick someone to root for it would be Freddie. [All images © Ria Brodell and used with permission.]