DG Does Black Friday: Glamour On A Budget
Once again, we asked DG contributors and friends to suggest glamorous holiday gifts. This year's challenge was to keep it cheap: Suggest one gift for an adult and one for a child, each costing $25 or less and all available online, so readers can avoid the Black Friday insanity. (For bonus points, we suggested throwing in fantasy luxe versions as well.)
AMY ALKON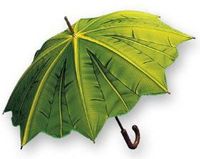 For safe glamour, I'll pass along a recommendation from my good friend Sergeant Heather, keychain pepper spray
. If you're wearing high heels and a slinky dress, you aren't going to be able to outrun a mugger, and if blinding him with your beauty doesn't cut it, a red pepper spritz in the eyes should do quite nicely.
For unwrinkled glamour, I recommend the best sunblock on the market, Anthelios #60 pour la visage
. That's "for the face," in French, and if you don't want yours to look like an Hermes lizard handbag by the time you're 50, this is the stuff to slather on. (It also helps to live like a bat, and carry a big banana leaf umbrella
whenever you leave the house during daylight hours.)
I didn't quite follow directions on the one gift for a kid/one gift for an adult. (I find children loud, sticky, and expensive, and find the gift most appropriate for too many of them these days would either be a muzzle or parents who actually...you know...parent.)
Amy Alkon is a syndicated columnist, blogger, and author of the new book I See Rude People: One woman's battle to beat some manners into impolite society
. DG's interview with her will appear in early December.
DMC, a.k.a. GROOMZILLA
After a year of marriage, I realize that the one thing I want from my husband more than anything else is an evening where we do not have to share ourselves with the outside world. No Blackberries or iPhones, Facebook or Twitter, but simply the kind of rich, quality time that feels luxe and decadent in our hectic lives: stolen hours for selfish pleasures. You're never certain from whom exactly you "stole" the time, but you know that you should be doing something else, and it feels wonderful to not be doing it...whatever it is. I know from being in the trenches with working mothers that this same feeling applies to one's child in equal measure. The fantasy of just not showing up for that 9:00 a.m. conference call so that you can watch Yo Gabba Gabba is not uncommon.
Since you can't really put "quality time" in a box, I suggest assembling "Evening with Me" kits (for adults) or "Afternoon with Me" (for children) kits that contain $25 or less of items that, when combined with your time and love, make for cherished memories.
Perhaps, for that special someone, a bottle of cheap but wonderful wine recommended by Jasons Trader Joe's wine blog, a lovely cheese from a local specialty store (such as Los Angeles' Say Cheese!), and the truly intoxicating scent of Origins Organics Body Pampering Massage Oil. I leave it to you readers to figure out how these items go together.
Or for the kids, how about a little creative endeavour? Pick a beautiful place in your city to take digital photographs (such as Los Angeles' Getty Center). Take the photographs to your local drug store for digital prints, and make some cool new artwork for the child's room using cheap but classic picture frames from IKEA. Somewhere during the trip, stop for snacks and some one-on-one, leisurely conversation that just never seems to fit into the "download and to-do list" during those rushed evening suppers.
Semi-anonymous DG Contributor DMC is a Los Angeles lawyer who last wrote about the Top 10 Pop Divas.
[Mother and child at Getty Center by Flickr contributor La Citta Vita, used under Creative Commons license.]
JOAN DEJEAN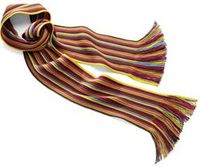 On the MOMA Store site, the pop-art Shima scarf at $48 is a great version of a very useful scarf at a great price. Outnet.com has lots of pricier scarves and shawls; what they carry depends on their stock at the moment. A scarf or shawl is an easy way to brighten up an outfit (and one's mood). It's what you see next to the face, so when I'm really tired, that's what I do: add a scarf or shawl with some warm tones to distract people.
Clearly the thing to get for a child is fake hamster
.
Joan DeJean is a professor of French literature at the University of Pennsylvania and the author, most recently of The Age of Comfort: When Paris Discovered Casual--and the Modern Home Began
. DG interviewed her about her previous book, The Essence of Style: How the French Invented High Fashion, Fine Food, Chic Cafes, Style, Sophistication, and Glamour
.
INGRID FETELL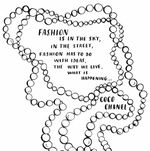 I like these pavé earrings from Anthropologie for a touch of sparkle on a very reasonable budget. For a budding fashionistas I like this amazing fashion coloring book
, which quotes Coco Chanel on the very first page! (I kind of want this for me too!) Also, for a man (or a scotch-drinking lady), I like these whiskey stones
, which don't melt into your drink. And finally, I'm coveting the whole Jonathan Adler Barbie world, particularly the tiny hot pink sofa. Those are a little pricier, though, at $49 each.
DG Contributor Ingrid Fetell blogs at AestheticsOfJoy.
KATE HAHN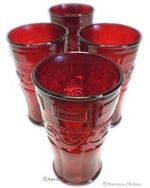 For kids, a bow and arrow set
that evokes the glamour of Robin Hood and Diana the Huntress for only $16.89. I don't know if there is a luxe version of this. Perhaps a visit to Sherwood Forest with a private archery instructor and a custom-tooled pair of leather gauntlets.
For an adult, a "Depression glass" luncheon plate (for those midday meals at home now that you've been laid off) or highball glasses (if you prefer your domestic dining in liquid form). Tableware from the era of a long-ago financial crisis adds a touch of glamour to today's Great Recession. There are a few vintage and reproduction pieces on Amazon. Another site, Replacements Ltd., offers a wide selection.
Vintage Ruby Red Highball Glasses (reproduction) – set of four $19.99
Manhattan 8 Inch Luncheon Plate Depression Glass Crystal (original) - $12.49
The luxe version would be Waterford Lismore Highball - $74.95 each
Kate Hahn is the author of Forgotten Fashion: An Illustrated Faux History Of Outrageous Trends And Their Untimely Demise
, excerpted on DGhere and here.
KAREN KARBO
I have the perfect inexpensive present for your deeply glamorous followers. For $14.00 you can buy someone a bar of the best, most sensual, most fabulous soap on earth. It comes from Fragonard. I bought my first bars in Grasse, when I was attending perfume school. My favorite is the Olive Oil/Lavender. Whoever receives a bar of this soap will never be content with any other soap every again. It's emollient and fragrant. The bubbles are silky. I order the bars by the half-dozen and since they are huge, I cut them in half.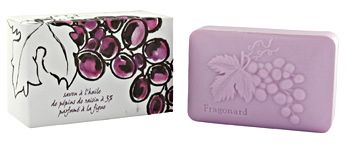 Of course, everyone should also buy themselves or someone they love a copy of The Gospel According to Coco Chanel
, which is not EVEN $25. It's $19.95 at your local bookstore, and something like $13.95 on Amazon. Voila!
Karen Karbo is the author of The Gospel According to Coco Chanel
, which DG excerpted here, here, and here. DG interviewed her here.
PAIGE PHELPS
My two cents' worth (for $45): Liz Claiborne rhinestone tassel earrings
DG Contributor Paige Phelps used up her bargain ideas in last year's glamorous gift recommendations. We hope she's a leading economic indicator.
KIT POLLARD
Adults: White Truffle Infused Olive Oil
($22.50) Diamonds may be forever, but the memory of a truly fabulous meal lasts just as long (and never needs a good cleaning). This bottle of olive oil infused with white Italian truffles may be tiny, but even a drop (or a sniff) is enough to make food lovers salivate, and to turn boring Tuesday night pasta into a recession-friendly version of Betty and Don's Roman escapades.
Of course, an actual trip to Italy would be an even more glamorous gift, but if you give just the truffle oil, at least you won't have to deal with those pesky lines at the airport.
Kids: Teenage Mutant Ninja Turtles Ninja Assault Gear (for Raphael)
($20.95) Teenage Mutant Ninja Turtles do not sound glamorous. However, as I've learned over the past few months, thanks to my three year old, the turtles actually represent much of what's glamorous and good to little boys. They're strong and cool and defeat evil, which are the main characteristics of icons of masculine glamour from Batman to James Bond. But they're also teenagers and they eat pizza, so they're approachable for little guys. Plus, the Renaissance artist naming system adds a bit of art historical sheen to "gritty" kindergarten crime-fighting.
DG Contributor Kit Pollard also blogs at Mango and Ginger.
VIRGINIA POSTREL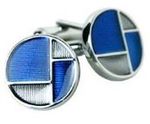 A set of cufflinks makes a nice gift for either men or women, and Amazon has a good selection for under $25.
(On my personal wish list: the Retro Reflective Blue & Gray Enamel Round Silver Cufflinks
).
Another good jewelry choice, though harder to pull off for less than $25, is a bib necklace. I found two promising versions for under $30: with jet beads here and hematite here.
I love giving kids cool boxes with goodies inside. This three-piece set of red mini-suitcases
is particularly charming, combining the glamour of (pretend) travel with the immediate joy of a surprise inside. I bought a similar case in a store and packed it with a couple of Barbie dresses I bought in Santee Alley.
Finally, kids and adults can enjoy 70th-anniversary DVD edition of The Wizard of Oz
together.
Virginia Postrel is DG's editor-in-chief.
For more gift ideas, visit last year's suggestions for Christmas/Chanukah and Valentine's Day. Or check out Amazon's Black Friday deals
.
--advertisement--