DG Contest: Win Glowelle And Sip Your Way To Beauty
Cleopatra was said to dissolve pearls in wine to make a tonic for her complexion, which seems a bit extreme. What if the pearl didn't completely dissolve? Did she chew the crunchy bits?
The modern version, Glowelle from Nestle, contains antioxidants, vitamins, and botanical & fruit extracts, is easy to digest, and helps delay aging by hydrating the skin. Two flavors are offered--Natural Pomegranate Lychee and Natural Raspberry Jasmine.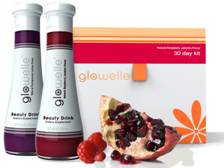 Win a 3 month supply by being the first reader to email me (kate at deepglamour dot net) with the correct name of the city where Nestle S.A. is headquartered.