DG Contest: Win AminoGenesis Wrinkle Arrest Day Cream
It's DG's mission to keep readers looking marvelous. Thanks to Katherine at KMR Communications, one lucky reader will have even more assistance--by winning Wrinkle Arrest day cream.
Wrinkle Arrest is a new moisturizing day cream with SPF 18 and broad spectrum sun protection. Wrinkle Arrest contains the groundbreaking AminoGenesis DermaScyne formula which helps reduce the appearance of fine lines, wrinkles, discoloration and other signs of aging. These precursors help support proteins like collagen and elastin as well as many other key proteins found in the skin.

The American Academy of Dermatology has given the cream the AAD Seal of Recognition.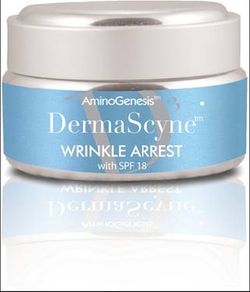 Be the first to email me at kate AT deepglamour DOT net with your name and address and the cream is yours!