Desiring The Unobtainable: Gowns Made Of Paper
Unobtainium. The exotic, unobtainable, and probably mythic substance sought by scientists that would make a resounding breakthrough and success of the scientific endeavor at hand. Borrowing that concept from science, it's interesting to realize that some of the glamorous things we desire give a convincing illusion of attainability but are, instead, wholly unobtainable.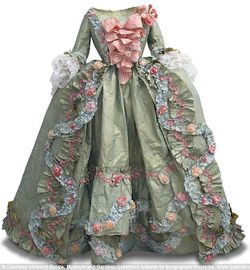 Consider Belgian artist Isabelle de Borchgrave's elaborate gowns copied from some 300 years of high fashion, ca. late 17th to the early 20th century. Even the most elaborate of original fabric gowns from those eras are, theoretically, wearable. Certainly recreatable, in approximate respects. But de Borchgrave's gowns are made of papier-mâché! Life-size, three-dimensional, authentic-looking gowns, robes, and jackets. And shoes – delightful faux-brocade pumps and slippers.

A close look at these gowns, featured in Prêt-à-Papier: The Exquisite Art of Isabelle de Borchgrave, a recent exhibit at the Hillwood Estate in Washington, D.C., revealed the intricate workmanship of the drape, prints, trims, and ornamentation. The heavy drape of an opulent taffeta, perhaps. The gossamer lightness of voile. The impressive illusion of fabric fitted atop hoops and panniers. In certain respects, the de Borchgrave gowns are perhaps more impressive than the originals in that the artist had to not only design, cut and assemble the gowns but also fashion and paint the "fabric." Each piece is painstakingly crushed, ironed, painted, cut, and constructed. It looks just as if a wearer could be fitted into these splendid fashions by a lady's maid, or more simply slip into one of the sheath 1920s frocks by Poiret, Lanvin, and Redfern of London. (Virginia wrote about a 2009 exhibit of de Borchgrave's Italian Renaissance gowns here.)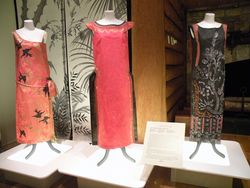 Papier-mâché can be made into wearable, if not especially durable, costumes and masks. The de Borchgrave gowns were not made for that.

Yet, one wants to wear these dresses, designed, as they originally were, for human beings - or at least see someone else wear them. File under "impossible fantasy" because, alas, they are fantasies made of papier-mâché.
(For another, more conceptual take on paper fashion, see also: Petra Storrs on Pinterest and YouTube.)