Deep Glamour Pet Week Prize Winners
After careful consideration, and much argle-bargle

"Dogs aren't glamorous!" "Yes, they are!" "No, they're not--slobber is not seductive!"
in which DG's panel of experts fought like, well, you know, Deep Glamour is pleased to announce the winners of the first DG Pet Week contest, canine division. All winners will receive PetHead products.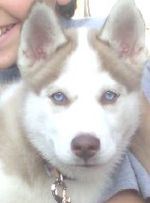 Most glamorous dog (tie) Sasha