Selling Off Hollywood: The Debbie Reynolds Collection Of Costumes, Props, And Memorabilia Goes Up For Auction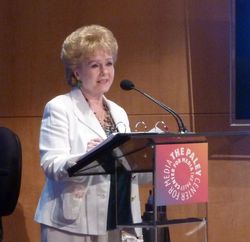 Debbie Reynolds introduces the auction
I spent Saturday at the giant auction of costumes, props, and other Hollywood memorabilia that Debbie Reynolds had collected over decades in hopes of establishing a museum. (The financial collapse of her most recent attempt led to the auction.)
The headline story was that Marilyn Monroe's famous "subway dress" from The Seven Year Itch sold for $5.658 million—a hammer price of $4.6 million plus a 23% buyer's premium of $1.058 million, not to mention an additional $551,655 in sales tax.
That dress, however, was only one of 587 lots that included not only other iconic costumes—most notably Audrey Hepburn's Ascot dress and hat from My Fair Lady, which is more important in the history of design than Marilyn's dress and went for $4.551 million—but also props, cameras, concept drawings, posters, and an archive of W.C. Fields contracts, letters, and notes for jokes. At the auction's end, an auction house employee reported that the total sales topped $18 million. (The final total was in fact $22.8 million.)
I'll publish something more analytical later, but I thought I'd share a few notes here. (For more detail, here's a good report on the procedings. Silver Screen Modiste blogger Christian Esquevin, with whom I spoke as we waited for the doors to open, provides smart context and good costume photos.)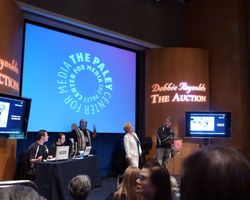 Joe Maddalena introduces Debbie Reynolds
On Friday, Joe Maddalena, the owner of auction house Profiles in History, was confidently predicting that the auction, which started at noon, should be over by 7:00 p.m.. Instead, it lasted until 1:20 a.m. One reason was the complexity of the setup: two websites for Internet bidding, a large phone bank taking phone bids, and a downstairs gallery for the overflow crowd that couldn't be accommodated in the main Paley Center auditorium; gallery bids came in by phone to a representative in the auditorium.
But the main reason for the late hour was that the bidding went so high, meaning each sale took longer than usual. Even with an opening bid of $60,000 for Charlie Chaplin's bowler hat, compared to the catalog estimate of $20,000-$30,000, it took a lot of $2,500 increments to reach the final $110,000. (The delays were particularly excruciating for the 13 W.C. Fields lots early on, which sold for relatively modest amounts sometimes arrived at in $50 increments.) The auctioneer did not speed-talk, making sure instead that everyone who might bid did so. He therefore allowed not only for technical delays but for lulls while people contemplated additional bids.
When the bidding lulled, Debbie Reynolds generally piped up with a wisecrack to get things going. Her standard was, "I paid more than that." Sometimes she pitched the lots' qualities, QVC-style: "That's a leather seat. It's really beautiful." "That's real mink."
She touted the stars who'd worn the garments: "She's a princess." "The great Danny Kaye." During a series of low-interest lots from The Great Caruso, her reminder that "She was an opera star" was such a refrain that it became a joke between Reynolds and the auctioneer.
She also deployed sexual innuendo: "You know what you could do on that couch," "You don't know what Ty Power did in there," and the audience favorite: "Mae West didn't even have a chest like that."
At one sad moment, however, Reynolds reversed her usual plea. After the first few bids for lot 280, the pastel rainbow-hued ballgown worn by Susan Hayward in With a Song in My Heart, she said, "It's from me—don't bid!" (Someone else was bidding on her behalf.) No luck. Paddle-holder #247, a Korean (not, as widely reported, Japanese) man who was the dominant bidder actually present in the room, persevered and eventually bought the dress for a hammer price of $3,000. It was one of his cheaper purchases of the day.
[Photos by Virginia Postrel. Permission to use freely granted with credit and link back to DeepGlamour.net]