Cosplay And The Glamour Of Dressing Up
Anime Expo, the largest anime and manga fan convention in the U.S., took place in L.A over the long holiday weekend. As TV trucks from seemingly every network in the world staked out spots across the street, anticipating Michael Jackson's memorial service, anime enthusiasts played out a different sort of celebrity inside the L.A. Convention Center.
In Japan
cosplay
, or dressing up in costume as characters from anime and manga, is a form of acting. Cosplayers interact in character. At American gatherings, the rules are more flexible, with cosplayers dropping in and out of character, depending on circumstances (a good thing for reporters who want to interview the players, not the characters). According to the
Wikipedia entry for cosplay
, "By the late 1980s, rather than cosplay being a chance to roleplay as a favourite character, it was a chance to be seen. A new kind of cosplayer emerged — a cosplayer who attended events not to participate, but to be photographed."
Posing for and taking photos is indeed a big part of the appeal of cosplay. Interviewing a group of friends dressed as
Vocaloids
, characters who represent voice synthesis software components, I was constantly interrupted as they posed for group photos. "It's like you're a celebrity for a day," said one. "You get to be special," said another. The promise of feeling special is one of the most powerful appeals of glamour. (
Here's a video
of a Vocaloid character.
Here's a video
using Vocaloid software to create the soundtrack for original characters.)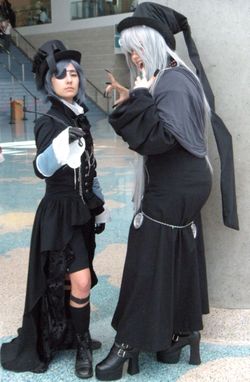 "Participation" versus "being photographed" is a false dichotomy, however. Making, wearing, and being seen in special clothes is an important form of participation in fan culture, and in culture in general. As Anne Hollander observed in
Seeing Through Clothes
:
Since the seventeenth century most theater has been produced by professionals for nonparticipating spectators, but the ritual origins of theater have never been lost. The theatrical impulse to dress up and participate in special occasions has deeply affected people's lives. The wearing of special clothing in the sight of other people has in fact often been arranged to constitute a complete theatrical event in itself. To make a show with clothes, without the demands of song or dance or spoken text, is a way of permitting ordinary citizens to be spectacular performers without any talent whatsoever. Physical beauty is not necessary, either. A simple public procession of specially dressed-up ordinary people is one of the oldest kinds of shows in the world; it has probably continued to exist because it never fails to satisfy both those who watch and those who walk.
With fewer and fewer places to wear special clothes—even Sunday best has largely disappeared—it's no wonder that so many young cosplayers have eagerly adopted elaborate fantasy fashions that are the antithesis of regular streetwear. Cosplay does demand talent, however, though not necessarily of the singing-dancing-acting type. Cosplayers take pride in the creativity and precision of their costumes, which are mostly do-it-yourself affairs. The hobby can lead to formal training in costume or fashion design, as it has for Renata Lindroos and Sarah Franchello, shown above as the Black Butler and Undertaker of the Kuroshisuji (Black Butler) series. Even cosplayers with no intention of pursuing design careers often enroll in fashion design courses. One young woman I spoke with had even taken a course in wig design.
Like Renata, many cosplayers are women dressed as men or boys. "A lot of male anime characters are just too pretty to be played by men," says Stephanie, 20, shown here dressed as the Black Butler's master, the 12-year-old orphan and business whiz Ciel Phantomhive, who lives in Victorian England. Ciel's costume includes a dramatic bustle and train, which are appropriate for the period but not for a young boy. No matter. Stephanie, like many cosplayers, finds these exotic styles irresistible. She would, she says, wear them every day, comfort be damned.
L.A. photographer Ejen Chuang is documenting cosplay in America, with an eye toward a book to supplement the existing ones on cosplay in Japan
. (Attention publishers: This is a great project with an enthusiastic built-in-audience and obvious promotion and distribution system.) He has a show of his cosplay photos opening at the Annex L.A. on July 14.