Champagne: Bottles Only, Please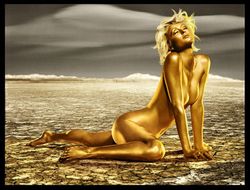 Q: Is champagne still glamorous when you drink it out of a can?
I've asked myself this question a number of times over the past couple of years. I was first made aware of the champagne-in-a-can movement thanks to Paris Hilton's decision to promote the modestly named Rich Prosecco by painting herself gold, Goldfinger-style. Shockingly, her endorsement didn't send me to the store to stock up for my next celebratory fine dining occasion.
But when my local wine store started carrying Francis Ford Coppola's Sofia Blanc de Blancs in packs of four pink cans, each with their own little straw attached, I was intrigued. I was already familiar with Coppola wines, which meet my basic wine-drinking criteria (pretty good and pretty cheap). Plus, I am just girly enough to find it hard to resist anything that comes wrapped in shocking pink. So I bought some.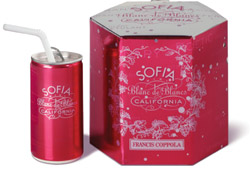 And I liked it. Or, rather, I liked the wine once I poured it into a glass. But even with the little extendable straw, I couldn't bring myself to drink it out of the can. There's nothing glamorous about a grown woman pretending to be a little girl pretending to be a grown woman – and that's what I felt like. A six-year old playing dress up, pretending my ginger ale was the other kind of bubbly. When the little girl does it, it's glamorous. When the woman does it, it's kind of pathetic.
So the answer to my question is, well, no. Champagne is not still glamorous when drunk out of a can. Which doesn't mean I don't still buy the cans – I like the wine and the cans are actually the perfect size for two people to split when they want to make one quick toast. But please, spare me the straws.
[Paris Hilton photo from the So Good food blog. Sofia blanc de blancs product photo from Real Simple.]