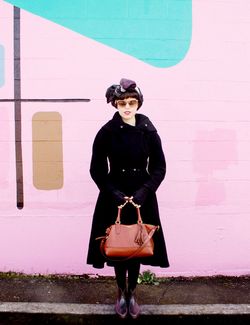 Among vintage enthusiasts, Vixen Vintage blogger Solanah Cornell is a first-name-only celebrity and a go-to source for advice on such lost arts as how to set your hair in pin curls and how to buy vintage lingerie. As a model for online vintage shops and a vintage-fashion blogger she's also famous for her ability to strike a vintage pose.
DG: How do you define vintage?
Solanah: Everyone will give you a different answer, but I define it as anything made approximately 20-80 years from now. Antique is anything older than 80 years old, and newer than 20 is second hand.
DG: Who does wearing vintage appeal to?
Solanah: A variety of different people, whether they are interested in alternative fashion or want to outwardly express their interest in nostalgia.
DG: What do you think of mixing vintage and contemporary pieces? Do you ever wear contemporary outfits?
Solanah: I love it, and yes, I do! Though the farther I get into vintage fashion, the more difficult it is for me to mix decades. I admire it on other people, but often find myself feeling a bit "off". Lately I've been trying for a more classic look by mixing vintage and modern garments. And I do wear modern jeans and cozy sweaters pretty regularly. I've been loving some classic/modern fashions lately and hope to balance some with my vintage wear.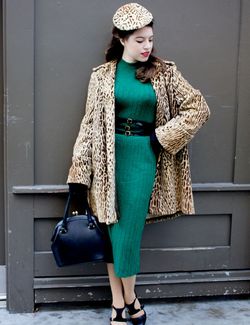 DG: Beyond the character of any specific garment, is there something glamorous about the idea of "vintage"?
Solanah: There is something glamorous about vintage, and I think it reaches back to the image women used to live up to. It was very glam, very ideal, especially if you're talking about the mid-century. Even in camping gear women were supposed to be perfectly coiffed and pretty. At that time it was oppressive, but I think women are starting to own glamorization again. They choose it because it makes them feel good, not because they are expected to be glamorous 24/7.
DG: You've said that you "love to be authentic" in your style. What makes your style authentic?
Solanah: For me it means "real." Not so much about having all the items in an outfit perfect, right down to the correct dates, but more of wearing things the way women wore them originally. And wearing what they really wore, not what Hollywood portrayed. I love slacks, and sweaters with the sleeves rolled up, and comfortable shoes like loafers and flat boots. For me, that's authentic, because I feel more connected to the everyday woman.
DG: Some people treat vintage as an overall fashion look, some as a lifestyle, and some as simply the characteristic of a given piece. What's your approach?
Solanah: I would say a little of each! For me it can and often does take over my entire outfit, and others it's and accent, or a nod to yesteryear. As far as lifestyle goes, I have adapted some old fashioned ways of life into the modern world.
DG: What does dressing in vintage mean to different groups of people? To you?
Solanah: It can mean very different and often opposing things to different people. Some people, mostly those in western religious communities, view it as a traditional, and modest form of dress. It re-enforces traditional gender rolls. This situation seems like a minority.
For the most part vintage is a rebellion against the negative aspects of modern society. Not to be confused with completely turning back the clock, but rather bringing forward the attractive, and leaving the negative behind. Lately fashion had quite a few hiccups, when viewed objectively it's so confusing and really has no collective foundation. I think people crave clarity and originality, and vintage fulfills that. It's also something that is obtainable for all social classes, it can be found in high end boutiques, or discount thrift stores.
DG: What are some of your favorite vintage garments?
Solanah: Casual wear is my favorite find. Slacks, denim, sweaters, and coat. Though I have a huge and never ending collection of 1940s hats, I just can't say no to them.
DG: In 20 years, today's clothes will be vintage, at least by some definitions. Can you imagine yourself wearing any of them in 2033?
Solanah: This is a really tough question, because on one hand we have so much in terms of clothing, it's difficult to imagine it being treated the same way we treat vintage clothing today. Right now much of our decades of clothing is rare. It was made of natural fibers, which can decay and be recycled, these garments have an expiration date. But clothing today is completely different. The fibers are so synthesized or combined with natural fibers, there really is no organic circle of life for these garments. We'll have them for much longer than what we've been previously accustomed to, and I think they may come back into our wardrobes as necessity more than anything. What else are we going to do with all these garments? They won't die.
DG: Is wearing vintage more popular among younger people (however you want to define "younger")? If so, why?
Solanah: I think simply because people don't want to look like they're still wearing fashions from their heyday. It can be difficult to pull off, but honestly I think the older you get, the better you can wear vintage! I'll always remember an elderly woman I saw walking down the street who was dressed to the nines in a 60s suit, pillbox hat, and matching gloves, pumps, and purse. She was the best!

DG: What's your favorite era? Is that because of the styles, the history, the culture, or some combination?
Solanah: My favorite era can be defined as the years controlled by the second world war. It appeals to me for so many reasons, much of it not being fashion related. Mostly to do with the short taste of liberation women experienced, and the strength they showcased before being forced back into the home. I admire what they did with what little they had, and how they dealt with the hardships and tragedies. This was reflected in the styles adapted, I really love the make do and mend and DIY aspect of the war era, as it's something I can be creative with.

DG: You're well known not only for writing about vintage fashion but for modeling it in fashion shoots on your own site and also for the store you used to work for (that's actually how I first became aware of you). What's the secret to a good vintage fashion picture? How important are the poses you strike to how you feel about the outfit?
Solanah: In our shoots we tried to emulate a lot of original fashion portraits from magazines and ads. They really showcased the garments well, and I think there's a certain strength in "striking a pose", rather than the very casual, candid poses we see a lot of today.
DG: What do people who wear vintage fashion have in common (if anything)?
Solanah: The most obvious is a love for the past, but I have found many vintage enthusiasts are very involved in various forms of fantasy, fiction, and escapism. Or "geeky" interests, if I could put it simply. Fantastical television shows and movies, comic books, anything that diverts away from the confines of the modern world. I think it has to do with how different people deal with the pressures of modern living, there are those who adapt well and embrace it, and those who need to step back and slow down.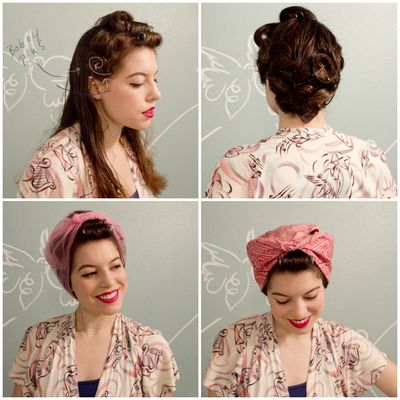 DG: Wearing vintage every day seems like a lot of work--just for the hair styling alone. What's the most challenging part? Time-consuming? Satisfying?
Solanah: It can look as though that's the case, but compared to a modern woman's beauty regimen, it probably takes about the same amount of time and effort. Most vintage wearing women do wet sets at night and wake up with curls. Whereas a non-vintage woman might spend most of her morning curling or straightening her hair with a heat device. When I do that it takes me about a minute or two to do my hair in the morning, but looks like it took an hour. It takes the same amount of time to get dressed comparatively, and I keep my makeup simple: tinted moisturizer, eyeliner, powder, lipstick. I do love getting dressed up, in stockings and hats, and heels for lunch with friends or a cocktail party. Feeling that kind of glamorous is nice every now and then, the kind where you really put in effort and it shows.
Solanah: Fellow vintage lovers, WWII women workers, old family photos, really any "real" people. I don't take much inspiration from the airbrushed publicity shots of movie stars, because that type of style just isn't a huge part of my lifestyle.
DG: Who do you consider glamorous?
Solanah: The type of women who has a certain something alluring and enchanting. She doesn't necessarily have to look glamorous, or live a glamorous life, but she does hold her head high and has the confidence of an individual in charge of their own life and loving it.
DG: What's your most glamorous place?
Solanah: My dressing table is my most glamorous place. It's where the magic happens.
[Photos courtesy of Solanah at Vixen Vintage.]