This week's Top 10 list is by our resident car nut Diego Rodriguez, who blogs about design at Metacool and cars at Unabashed Gearhead Gnarlyness, leaving only a little time for DG. He last wrote for DG about fashion in World of Warcraft.--VP
I can only imagine the hate mail this post will generate. Even if you dislike cars, my sense is that you'll have a list of cars you believe are more glamorous than others. And it is very likely that none of your cars are on my list of glamorous cars. For a person like me, who suffers from an abiding love of automobiles, as well as a deep fascination for all the people who've designed, built, and raced them, putting this list together was pure torture. In the span of fifteen minutes I created a list of 47 contenders, and only via much gnashing of teeth and multiple strokes of the delete key was I able to whittle it down to the final ten.
Here they are, the ten most glamorous cars made after 1945 (in order of date of manufacture--any other ranking is just too difficult):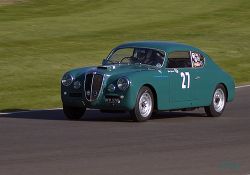 Lancia Aurelia B20GT (1950): the archetypal two-door gran turismo, this Lancia is a most elegant expression of Italian design in the postwar period. This is the auto for two people deeply in love to tour the lakes of Lombardy. I fell in love with it after seeing it at speed in the pages of Tintin. Of all the cars on this list, this is my favorite.
Sunbeam Alpine Sport (1955): Grace Kelly took Cary Grant for a ride in one in To Catch a Thief
. Not a macho car, nor one of classic proportions, but a memorable shape nonetheless.
Aston Martin DB5 (1963): Goldfinger. Silver. Ejector seat. Tire-slashing wheel spinners. Not so much about James Bond, more about Sean Connery. British glamour at its best, and arguably the high point of Aston Martin design.
Ferrari 400 Superamerica (1963): For those of you who equate the Ferrari brand with gold-chain reruns of Magnum PI, please consider this: in the early sixties, Ferrari made just 47 of these bespoke beauties, each fettled with a hairy V-12 motor up front and exceptionally pure bodywork from Pininfarina. These were fast, glamorous cars built for kings. This was the Ferrari of Rockefellers, the Aga Khan, and Gianni Agnelli.
Mercedes-Benz 600 (1964): When a movie director wants to tell us that a very evil, very powerful, very nasty dictator (albeit one with good taste) is about to arrive, he is likely to choose this car. All joking aside, some truly awful human beings occupied the back seat of this car. Ultra expensive in its day, the 600 is still the ne plus ultra of the Mercedes brand. It's rumored that you can still buy a new one today if you have enough cash...
Lamborghini Miura (1966): One of these came to a tragic end at the start of The Italian Job
. I've stayed away from out-and-out sports cars on this list because the experience of driving them is often less than glamorous, but because the Miura captures all that was outrageous about pre-Vietnam '60s culture, it made the cut. If you could afford to buy and run one of these, you had money. And if you were attractive enough not to be shown up by its timeless styling, you certainly qualified as glamorous.
Cadillac Eldorado Brougham (1957): Harley Earl's unique view of the universe is best personifed by this car, with its tailfins, dagmars, brushed stainless steel roof, and intricate metal detailing throughout. It featured suicide rear doors, stainless steel drink tumblers, a cigarette case, and even a perfume dispenser. Open those doors, and you half expect Marilyn Monroe to tumble out in all her platinum glory.
Porsche 911S (1970): I had to put a Porsche on the list. So I chose the one that Steve McQueen drove around the countryside of Le Mans at the start of his movie of the same name
. Before the 911 became a testosterone wagon, it was a compact, even lithe vehicle powered by a relatively small motor. An elegant Porsche. As such, I think it's the most glamorous car ever driven by McQueen, who was one glamorous dude.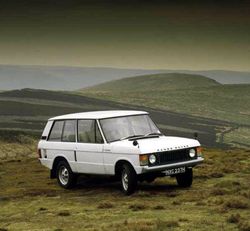 Range Rover (1970): the first generation Range Rover was styled by engineers, but like the American Jeep which came thirty years earlier, its design process spawned something of great purity from an aesthetic point of view. As its basic, utilitarian design added layers of luxury and power over the years, it was transformed in to the ur-SUV, a temple of jet-setting glamour and power. If in 1957 the Eldorado would have been your vehicle of choice, in 1987 you wanted to be seen in a Range Rover. The most glamorous ride ever to sport external door hinges.
Toyota Prius (2004): not the dowdy first-generation model, nor the overly angular third gen edition. The second-generation Prius defined "hybrid" as a glamorous technological paradigm. Not only is this the only Japanese car on my list, but the Prius is the only one that Leonardo drove. Like all the other cars on this list, its glamour has its roots in power, but in this case it is about its relative lack thereof. What a difference 50 years makes... given a choice between this and the Sunbeam, I bet Grace Kelly would have driven one, too.
[ 1953 Lancia Aurelia by Bill Martin (Flickr photostream here), used with permission.]