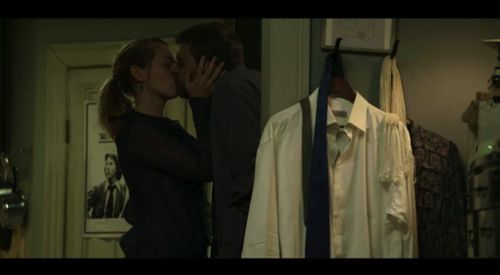 One of the nice background touches in the terrific Danish political drama Borgen, whose episodes can be seen on LinkTV and L.A. station KCET, is the never-mentioned poster on the front door of reporter Katrine Fønsmark's apartment.

It tells you why she became a journalist and why, even though the guy kissing her is the prime minister's "spin doctor" (apparently his official title), she maintains a certain skepticism toward public officials. She actually seems a little young for All the President's Men to have sparked her ambitions, but I do know baby boomer journalists whose career ambitions were shaped by that glamorous portrayal of journalism.
More than we like to admit, glamour influences our answers to the question, "What do you want to be when you grow up?" Think of all the architects and designers inspired by Ayn Rand's uncompromising genius Howard Roark. As a story of struggle and triumph, The Fountainhead is romantic, but Roark as an ideal is glamorous. As Michael Bierut writes in his classic post on Design Observer:
Roark's view towards clients -- "I don't intend to build in order to have clients. I intend to have clients in order to build." -- still seems to describe the private yearning harbored by most of my fellow professionals whether they care to admit it or not.
Glamour shapes our ideas of what careers are possible and what satisfactions they might offer. It allows us to see our future selves in fulfilling roles. When I reported a column on CSI's glamorous portrayal of science, I heard tales of surging enrollments in those forensic-science. (Numb3rs did not, however, have a similar effect on operations research, the applied math on which that show drew most often.) In its day, L.A. Law reportedly increased law school applications.
Of course, glamour always contains an element of illusion, hiding difficulties and flaws and heightening rewards. In an American Bar Association Journal article, a critic complained about the law according to Stephen Bochco:
In a typical day in La La-Land, beautiful lawyers drive beautiful cars to the beautiful office, discuss sex with twins at a firm meeting, leave for court to win a case that is not only on the "right side" but very lucrative, then go to a beautiful dinner with tonight's beautiful sexual conquest.
At a recent conference I heard a fashion-merchandising professor lament a litany she hears from naive freshmen: Rachel Zoe. Despite what a generation of fashionistas has taken from Zoe's reality show and public persona, "celebrity stylist" isn't a realistic career goal or a subject you can get a degree in.
On the other hand, sometimes even the craziest ambitions come true. As a discerning reader at Zócalo Public Square wrote in the description of my November book talk there, "For a young Bill Clinton, glamour was the Kennedy White House." And look where it got him.
Was your career choice influenced by glamour? If so, how?