In classical music the combination of virtuosity and glamour has most often been associated with attractive opera stars, conductors, or soloists who play instruments such as piano and violin. The attire of such soloists when they perform is often extraordinarily glamorous, as I written before. Their publicity photographs often highlight their physical attractiveness. A more recent trend is to produce videos. Here is an interesting video of Korean violinist Chee-Yun in the process of being photographed for potential publicity shots. (Chee-Yun's fabulous hair has been featured in a Korean Pantene commercial.)
Another violinist, Vanessa-Mae (of Thai-Chinese heritage, born in Singapore, and raised in London) began to study piano at three and violin at five. She amassed her hours of practice early, and was recording professionally by age thirteen. In her teenage years she began to combine her virtuoso skills as a violinist with her interest in pop music. She took full advantage of her exceptionally beautiful face and figure by using glamorous makeup and provocative costumes, and launched a popular music career that has made her one of the wealthiest young entertainers in Britain.
She is a controversial performer because some of her hit recordings are arrangements of well-known classical works combined with a techno-style dance background. There is an example of this below, in which her live-performance version of Vivaldi includes a dance-beat, an electric violin, a sexy costume, and bodily movements that are anything but "classical." (In the video she inadvertently demonstrates how to slip gracefully in high-heels. Another example of her mix of classical, techno, and sexy presentation is her version of Khachaturian's "Sabre Dance." Whether it is fun and exciting or a tawdry bastardization is a matter of debate and taste.)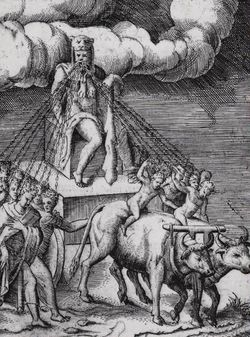 Whatever one thinks of how Vanessa-Mae has used her virtuosity as a violinist, there is no question she earned her skills through thousands of hours of arduous practice. In some of her music videos Vanessa-Mae portrays a young woman in peril, or operating in a mobster world, or isolated in cold, remote locations. These videos evoke the long-standing theme that a person can become a prisoner of their extraordinary skills, partly because these skills become ties that bind others to the person that possesses these skills, and vice versa. At left is one of the many Renaissance representations of Hercules Gallicus in which he conquers not by brunt strength, but by eloquence. And as a skilled rhetorician there are chains running from his tongue which bind his audience to him, and vice versa.
The virtuoso performer is also bound to the continued hours of practice that are necessary to maintain those skills. In the 1970s young Czech violinist Václav Hudeček become so famous in his country that he attained rock-star-like status. But in his own words, he didn't have time to lead a wild lifestyle. "Violin is a very difficult instrument…if you want to play Brahms' violin concerto, Tchaikovsky's violin concerto, very beautifully, you have to practice, you know. Not all day long, but five, six, seven hours a day."
When you hear stories of virtuoso performers burning out or losing their edge, you have to imagine not only the thousands of hours spent building their skills, but also the ongoing hours of practice required to continue to perform at a virtuoso level. Fame might give you the opportunity to party in high style (especially if you are strikingly attractive), but to actually do so could soon lead to decreased performance ability. We can all think of cases in which the achievements of an athlete or performer thrust them into the limelight, and then they spent so much time enjoying their new found fame that their skills rapidly declined.
An perfect example of this was 1960s British soccer star George Best. Many people consider Best the most brilliant soccer player Britain ever produced, but he is just as well known for having squandered his talent by living a playboy lifestyle. Best's bio reveals his obsessive pursuit of soccer skills as a child, but it also reads as a cautionary tale for anyone whose virtuoso skills bring sudden fame. His career at the top lasted only six years before his pursuit of "birds" and booze eroded his skills. Best himself understood that fame and his good looks had played a part in undermining his career, providing him with opportunities to party and drink that he was unable to resist. He joked ironically, "If I'd been born ugly, you'd never have heard of Pelé."
George Best was one of the first celebrity footballers, and women threw themselves at him. As he joked, "I used to go missing quite a lot... Miss Canada, Miss United Kingdom, Miss World." (He was not exaggerating.) At times he didn't seem to regret his escapades, "I spent a lot of money on booze, birds and fast cars. The rest I just squandered." Because he could not discipline himself to stay in shape for soccer, or to stay away from alcohol, he became a difficult, less productive teammate who was soon out of the sport. He died at age 59 of complications after a liver transplant.
GQ magazine named George Best one of the 50 most stylish men of the last 50 years, but there is no question that the temptations of a playboy lifestyle destroyed his talent. If his virtuosity had been some evidence of virtue, then he lost that virtue when he neglected to continue to hone his skills. As the biography posted at the International Footballer Hall of Fame notes "George Best had squandered one of the rarest and most precious football talents ever seen in favour of a self-indulgent merry-go-round of birds and booze." After describing some of the amazing goals that he scored in his few years at his prime, the bio ends, "the only tragedy George Best has to confront is that he will never know how good he could have been."
[Photo of Maria Sharapova by Chris Gampat used under the Flickr Creative Commons License.]