"It's easy to imagine better cars and homes and aircraft of the future--but it's hard to imagine a finer radio than the new Brunswick for 1931!"
In the fall of 1930, Brunswick Radio ran a striking series of ads for its new Futura radio. (Click each image to see a larger version.) The ads explicitly promised customers easy tuning and a radio that wouldn't soon be obsolete either stylistically or technically. But what they were really selling was the future, portrayed in brightly colored, highly stylized illustrations, against which the supposedly up-to-date radio cabinet looks, at least to 21st-century eyes, rather stodgy and old-fashioned.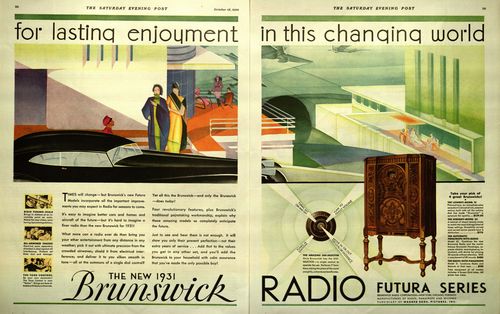 At the same time that they built excitement about great things to come, the ads promised a sense of stability: "lasting enjoyment in this changing world" and a chance to experience the orderliness and predictability of a future of "simplified and centralized control." In the early 20th century, many Americans longed for what the historian John M. Jordan in his book Machine-Age Ideology: Social Engineering and American Liberalism, 1911-1939
called "kinetic change made stable." Social and political theorists offered their own glamorous visions of how that paradoxical state could be achieved. And so did advertisers pushing consumer products.
In the Brunswick ads, this ideal of technocratic control becomes a metaphor for a new-fangled radio dial.
"When a hundred thousand automobiles speed along the elevated highways of the City of the Future, engineers predict that the whole traffic system will operate as a single unit--under the control of one man's hand. The future of mechanism, they say, lies inevitably along the path of simplified and centralized control....
Experience the ease of centralized control by asking your Brunswick dealer to let you try the Uni-Selector."