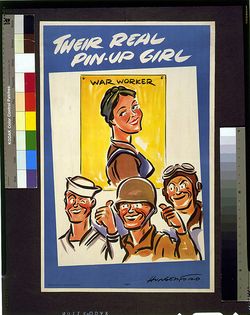 As holidays go, Independence Day is one of the less obviously glamorous. Parades and cookouts lack the dramatic excitement of New Year's Eve champagne or Valentine's roses. But that doesn't mean that patriotism itself doesn't have a glamorous face. Glamour and politics have been (somewhat uncomfortable) bedfellows since long before Rosie the Riveter, and they will remain that way long after Michelle Obama's toned arms and Jason Wu ensembles have left the White House.
The role of glamour in U.S. politics is complicated at best. Glamour, as a concept, runs counter to the central notion of our government - that everyone is created equal. The result is kind of a mess, come election time. On both sides of the aisle, politicians try to appear simultaneously down-home (I connect with you) and glamorous (I'm so fabulous; you should aspire to be like me), sending mixed messages to a public that's mostly just tired of politicians anyway.
Maybe that explains why Fourth of July celebrations since the late 18th century have been more about parades and fireworks and getting dirty in the backyard than they have been about celebratory balls or fancy parties. Is it possible that this Saturday is the one day this year that we put aside our aspirations and, instead, act like we really are equal?
[War poster by Flickr user michal hadassah. Used under Creative Commons license. Original artwork by Cyrus C. Hungerford, 1944.]