In a post last year, Kit captured the glamour and significance of high school proms as "The First Big Night to Remember":
A rite of passage in many ways, all of the rituals and excitement surrounding the prom give most kids their first brush with adult glamour. Reared on princess mythology, girls finally get to don their own ball gowns and be perceived not just as little girls, but as something close to grown women.
For kids with chronic kidney disease, who typically spend four hours a day, three days a week hooked up to a dialysis machine, that rite of passage is often just a dream. That was the case for Lori Hartwell, who was only two years old when her kidneys failed and later missed her own high-school prom because she was on dialysis. As an adult, Hartwell founded the Renal Support Network to help give people with kidney failure "health, happiness, and hope" while coping with their disease. (If all goes well, Lori is due for her fourth transplant early next year, with a kidney donated by her step-sister.)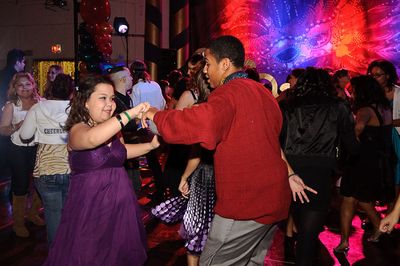 One of the networks's most inspiring—and certainly most glamorous—programs is its annual Renal Teen Prom, which each January gives "kidney teens" a special night "to have what no young person should miss...the chance to enjoy being young!" As Linda Oakford, RSN's patient coordinator explains,
The best part about the Renal Teen Prom is that they get to share a wonderful evening with others who are experiencing the same issues that they are and that they are not the only one dealing with [chronic kidney disease]. They don't have to explain their scars or other obvious medical problems. The girls will wear strapless dresses not worrying about covering catheters or scars. As you know teenage years are difficult enough without medical issues, many of these teens feel like outsiders. Life-long friendships have been made at the Renal Teen Prom.
Thanks to financial and in-kind donations, and a lot of volunteer labor, the prom is free, including dinner, transportation, gowns for the girls and ties for the guys. The prom is held the Sunday before the Martin Luther King holiday, because dialysis is rarely scheduled on Sundays and the following day is a holiday.
The photos above were taken at last January's prom by DG friend and kidney mom Karol Franks, whom you may remember from her great candid photos at our hat party. She told us about the prom when she was looking for a last-minute replacement photographer. They're covered for photography this year, but DG readers can still help make these special prom dreams come true.
Your $50 contribution can send a teen to the prom. Or you can help with in-kind contributions. In particular, the RSN needs donations of large and extra-large dresses that look appropriate for teenage girls. During the first two weeks in January, volunteers will visit hospitals and dialysis centers around Southern California, bringing dresses for girls to try on and select from. They already have plenty of small and medium dresses, but larger sizes are in short supply. They can also use accessories like jewelry and evening bags. Dresses do not have to be new, but they should be cleaned before donating.
Financial and in-kind contributions are tax-deductible. Businesses that support the prom will receive credit in the printed program.
To donate dresses or accessories, you can contact me at virginia-at-deepglamour.net or leave a comment below. I will either arrange pickup or a convenient dropoff. If your business would like to support the prom or RSN's work in general, please contact Linda Oakford at Linda-at-rsnhope.org or 818-543-0896 x106.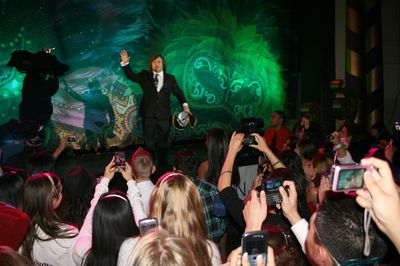 And if you're a celebrity, or know one who'd be willing to spend an evening in Sherman Oaks, they'd love to hear from you. Jack Black was a big hit last year.
[Photos by Karol Franks, Flickr user okarol, and used with permission.]