Contrary to popular belief, the glamour of air travel didn't disappear with the crowded planes brought on by deregulation and cheaper prices. It started dissipating in the late 1960s, with the coming of jumbo jets and terrorist hijackings. "In the popular imagination," writes architectural historian Alastair Gordon in his excellent book Naked Airport: A Cultural History of the World's Most Revolutionary Structure
, "air travel was now equated with boredom and disaster."
This Weather.com slide show on "Glamour in the Skies" reminded me of another change--this one a technological improvement--that eroded airline glamour around the same time: the disappearance of the staircase in favor of safer, more weatherproof indoor jet bridges.
If you're a traveler, you'd much rather walk directly into the terminal on a more-or-less level jet bridge. But the old stairs set the traveler apart from the crowds on the ground. They created a dramatic sense of arrival and departure. And they made for lots of glamorous photographs.
Nowadays, we still occasionally see such glamorous images of people set apart from the normal life that includes occasional jet travel. Some, like the star of Fergie's "Glamorous" video, are going up and down the steps of private jets. So, in a sense, are the others. But their private jets are publicly owned.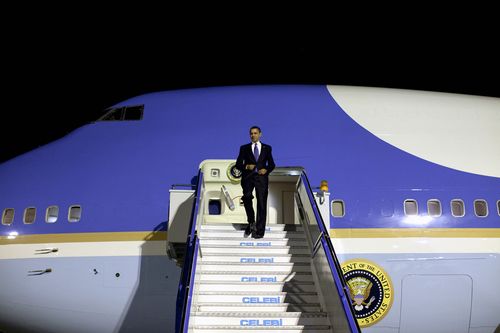 [Marilyn Monroe and her small "bodyguard" courtesy of Everett Collection and used with permission. We paid to use this photo, so don't you steal it. President Obama arriving in Ankara, Turkey, by Pete Souza and courtesy of White House Flickr stream.]