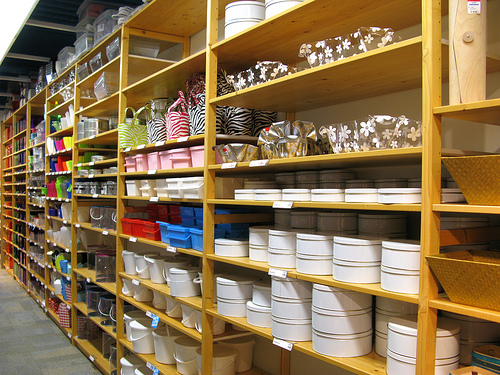 The most glamorous store in America may be going public.
I don't mean Neiman Marcus Inc. -- or Bergdorf Goodman, which it owns -- although the luxury retailer is glamorous to many people, and it did just file for an initial public offering.
I'm talking about Container Store Inc.
The retailer, which has 61 stores and two more opening this fall, is known as an exemplary employer, ranking high on Fortune magazine's "100 Best Companies to Work For" list for 14 years running. It avoided layoffs after the 2008 downturn. It talks a lot about values, and its executives regularly say things like, "We all know we're doing more than selling a product."
All those good feelings -- and the sales that topped $750 million last year -- depend on something every Container Store customer knows well: The store's merchandising is amazingly seductive. Like a luxury retailer, the Container Store gets a premium price for its products and persuades people to buy more than is strictly necessary because, knowingly or not, it traffics in glamour.
Glamour is not a synonym for luxury, celebrity or fashion. It isn't a style, like mirrored furniture or satin dresses. Like humor, it's a form of communication that elicits a distinctive emotional response. Glamour lets us feel that the life we yearn for is almost within our grasp. It is a powerful form of nonverbal persuasion.
"We're really selling not space as much as we are time," says Chief Executive Officer Kip Tindell. Like the sight of chairs looking seaward on a white sandy beach or a model strutting down a runway in the latest fashions, a walk through a Container Store makes a customer imagine a better self in better circumstances. With the right equipment, it suggests, your life can be peaceful and orderly, giving you more time to relax and enjoy yourself.
Read the rest on Bloomberg View.