Carrie Underwood Knows The Secret To Great Christmas Variety Shows
Back in the olden days, before cable gave us entire networks for children's shows, we kiddos were pretty darn bored during primetime TV. Except, of course, during those extra special Christmas programming hours.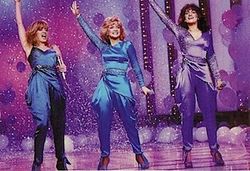 There were the sparkly Mandrell Sisters, a sparkly A Very Dolly Christmas (see also: A Smoky Mountain Christmas), the sparkly boys of N'Sync Christmas special. And, of course, the annual Bob Hope Christmas Special. (Yes, another Dolly clip. What can I say? I love her. So much.)
Now, I know what you're thinking: "But Paige! The Mandrell Sisters wasn't a show on just during the holidays, it actually had a two-year run! And Paige, besides the Mandrell sisters, IMDB says that the stars were also Truck Shackley & the Texas Critters, a group of Krofft puppets that included five musicians and a dog!" Yes, yes, sure. OK, but for some reason all I can remember are the holiday specials. The hair, the costumes, the terrible skits with long pauses in between canned laughter. *Sigh.* Those were the days. (BTW, apparently Louise Mandrell is playing the Gaylord Opryland with her "Joy to the World: Christmas Dinner & Show" through Dec. 25)
And then, after years without this country truly embracing a blonde country singer with mediocre comic timing and a penchant for sparkly gowns, what do my wondering eyes see?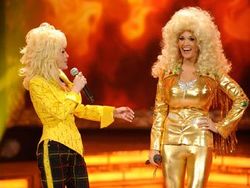 Carrie Underwood and her very own Christmas Special right there on Fox TV! Carrie tells E! Online: "This was kinda my first real experience with acting at all and I honestly don't think I'm very good, but I think it totally works for what we're doing because, I don't know, it's probably more funny if you're not the best actor in the world."
YES, CARRIE! She nailed it! THAT IS WHAT MAKES CHRISTMAS VARIETY SHOWS GREAT! TERRIBLE ACTING! BAD SKITS! DULCET SONGS! SEQUINS!
And, of course, Dolly Parton.
Merry Christmas, ya'll.