Carolee's Style Icons: Does Michelle Obama Know They're Equating Her With Evita To Sell Jewelry?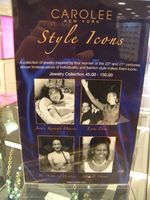 Walking through Bloomingdale's, I was struck by this sign in the jewelry department. The Carolee jewelry company is pitching its line of pearls with photos of four pearl-wearing style icons: two American first ladies, Jackie Kennedy and Michelle Obama, both Democrats, and two foreign consorts, Eva Peron and Wallis Simpson, who, to put it politely, leaned fascist. (What, no Imelda Marcos? Too famous for shoes I guess.)
Now I realize that jewelry marketers should not be confused with historians, but if I were Michelle Obama I'd be offended. And if I were managing the Obama brand I'd certainly protest. If the White House can ask a noncontroversial windbreaker-maker to remove a billboard featuring a press photo of President Obama in its jacket, surely the first lady's staff can ask Carolee not to link Mrs. O with Evita.
It is, of course, possible that this is a sanctioned use of the first lady's image. To find out, since there's no press contact listed on Carolee's site, I posted a query to @Caroleejewelry on Twitter. (If someone were paying me to write, I'd call the company and the White House.) No response.