Bathrooms To Envy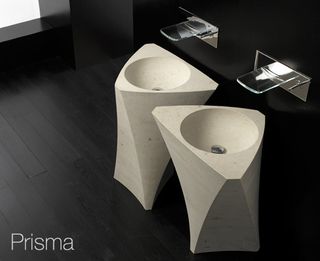 Last week my wife and I visited two high-end bathroom show rooms in Denver. We are preparing to remodel our guest bathroom and basement bathroom, the only rooms in the house that haven't been redone since we moved in three and half years ago. We took along an artist friend who also wants to redo one of her bathrooms.
Both women are visual artists who love contemporary design, so it was fun to see their reactions to the displays. An upscale bathroom showroom is a dream world, a place to see possibilities that seem like fantasies. There are sinks where the water magically disappears through barely visible slots, faucets that descend from the ceiling, toilets with built-in bidet functions that open when they sense you approach (my wife found this creepy), and tubs that can stimulate your skin with air bubbles or massage your muscles with water jets.
The Italian Bandini sinks shown above were photographed in a design space that makes them look like sculptures, and the water falls into them from faucets placed in the wall. The black floor and wall and the white Moon stone sinks are ultra chic, and the photograph suggests a bathroom of grand scale. Since we're remodeling a small guest bathroom, many such possibilities seemed too large for our space.
In one room there was a large monitor that displayed dozens of extraordinary bathroom designs. Many of them were photographed from the interior of the bathroom, and a few had a bathtub next to a picture window that overlooked the sea or a verdant forest scene. These were bathrooms to envy, as Kohler makes clear in this video, which shows a tub designed to overflow the rim.
The woman who dies in the video ad has clearly enjoyed life, something many Italians seem to excel at doing. Her bedroom is traditional, but sumptuous and rich with memorabilia. She is surrounded by children and grandchildren. The photographs show that she had been a champion athlete, a traveler, a pilot, and in her younger years, an artist's muse. A glamorous life indeed.
Then through a open window she sees another woman open her bathroom window to reveal a bathtub is has been filled by water coming down from a fixture in the ceiling. Already full, the water is spilling over the edges to be magically drained away. She imagines the decadent luxury of stepping into that tub, displacing more water over the edge, and letting the water continue to run, keeping the temperature perfect. And imagining what a bath like that would feel like, she glimpses a glamorous experience that she wishes she could have. Who can blame her?