Aging Gracefully
Sir Paul McCartney is now 67 years old. If as a teenage girl you screamed at a Beatles concert in 1964, you are now in your late 50s or early 60s. If you go to hear Sir Paul perform now, you probably hope that he still will look relatively young and healthy, and that he be able to perform much like he did when he was 22.
We wish that the icons of our youth would never age, and certainly not die. If virile, young Marlon Brando can become fat, old Marlon Brando, then so can we. If young Elizabeth Taylor can become matronly Elizabeth Taylor, than so can we. If Elvis Presley can die at 42 as an overweight, drug-addicted caricature of his younger self, then so can we. And if Farrah Fawcett, a visual symbol of outdoor healthiness, can succumb to cancer at 62, then so can we.
As a public we obsess over signs of aging in our youthful icons. We seem shocked when we see sex-symbol singers like Britney Spears or Jessica Simpson perform in public looking heavier than in the past, even though as a society we have never looked heavier. We are grateful when a actor like Mickey Rourke, whose return to boxing in middle age ravaged his face, can find a role suited to his appearance, but we are nonetheless shocked by how he now looks.
We long to always have a youthful, desirable face and body. But at some point as we age, we discover that achieving or maintaining a fit, healthy body is going to require discipline and work--such as significant amounts of regular exercise, getting enough sleep, eating restrained amounts of healthy food, and avoiding unhealthy addictions. Otherwise years of unhealthy habits will eventually leave us looking unhealthy. How could it be otherwise?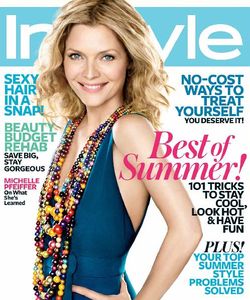 Thus it is inspiring to see Michelle Pfeiffer looking stunningly beautiful and healthy at 51 on the July cover of InStyle magazine. She was, of course, stunningly beautiful as a younger woman, and it might be that she has had some plastic surgery—if so, it was masterfully done. Her face looks older now than in side by side comparisons with her younger self, but in some cases she looks even more beautiful and glamorous now. Her figure is extraordinary, and achieved in her own words, by working at it. "I'm doing all the right things. I do cardio and strength training, a little bit of weights. I mix it up, but I can't push myself the way I used to." This last phrase reveals that she has been working at maintaining her figure for a long time.
And she has been smart about style. She has worked with Giorgio Armani for more than 20 years, realizing that outfits suitable for 20-something women might eventually no longer seem age-appropriate. In this she sets a good example, perhaps partially because she has a long-established history of wearing fashionable clothing.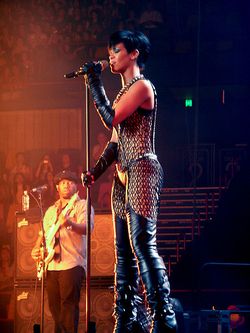 The dangers of aging ungracefully are perhaps greatest for sex symbols who gain fame wearing more garish, tasteless attire. Though Cher still looks good for her age in her Bob Mackie gowns, there is something odd about dressing like a showgirl into your 60s. Is this what fans of Britney Spears and Rihanna (shown at right) will expect them to do decades from now? If so, it seems rather pathetic. Wouldn't it be healthier to hope to see our icons mature into individuals who look and dress like healthy, fit, fashionable people relative to their age? Otherwise we can end up with icons who dress like people trying, sometimes almost desperately, to look exactly like the same somewhat tawdry sex-symbol they were when they were decades younger.
[Paul McCartney photo courtesy of Wikimedia Commons. Photo of Rihanna by Gemma Mary licensed under Creative Commons Attribution 2.0 License.]