Abundance Or Simplicity: What Does A Glamorous Bed Look Like?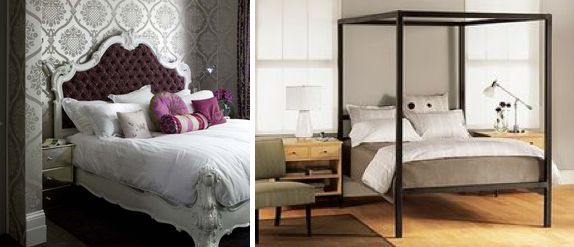 If you search Google Images for "glamorous bed," you find the photo on the left, from a Style-Files post that declares, "An ornate French style bed ...makes the bedroom glamorous."
My first response is yuck. Only the generous use of white saves the bed from looking tacky. It reminds me of the beds 19th-century French concubines used to impress their clients.
I far prefer the Zen-modern aesthetic of the bed on the right, which Grace Peng calls "the most beautiful bed in the world." Like ads for organized closets, she notes, its allure lies not just in its clean lines but in "the fetish of empty space in a land where so few possess it." (Grace commented on the Container Store post below.)
In fact, both beds are glamorous, but to different audiences. Carefully styled for the camera, they stoke different desires. The French-style version, like the concubines' beds it alludes to, offers the promise of abundance and indulgence—luxury in a world of scarcity. The Zen-modern bed, by contrast, is all about escape from stimulation and stuff—luxury in a world of plenty.
Which do you prefer? Or is your idea of a "glamorous bed" something different altogether?