A Romantic Moment: Something To Savor Or Broadcast?
Ingrid's recent post on the Barbie with the video camera built into her body is thought provoking. One reason I find the doll's image disturbing is that many people are already having issues sorting out their increasingly mediated lives. Rather than savoring here-and-now moments, they are often busy photographing or video-taping themselves, or using their smartphones to tell their friends what they are doing. And if they are communicating with their friends about what they are doing, that itself is what they are doing. Noticing this, street-scene photographer Ed Yourdon titled this photo, "We ignore the people who love us, in order to carry on conversations of dubious value."
I first starting thinking about how connecting with a smartphone can disconnect you from the moment after I witnessed a particularly charming marriage proposal. We were in Santa Fe, dining at a romantic restaurant, when I noticed a young couple a few tables away. Both were dressed up for a date, and I suspected something was up when several of the staff came out to bring her dessert. They were in on the surprise, which was that her dessert came with an engagement ring. The young man dropped to his knee and proposed to her, she accepted, and everyone one around them began to applaud. He had worked hard to create a really lovely moment for her, and it was charming to witness.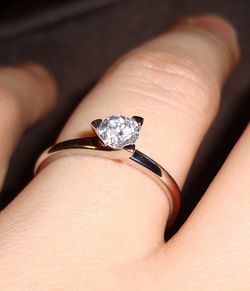 I could understand her wanting to take a picture of the presentation and the ring, but I could not understand her spending the rest of their time there sending the image out to her friends and relatives, text messaging them, and calling them. I felt sorry for the young man.
She had abandoned the moment he had worked so hard to create. Surely her excited phoning could have waited long enough to share more of this romantic moment with him, rather than distancing herself in order to announce what had happened to the rest of her world.
I felt sure that the magic of the moment would have lasted longer for him if she had stayed connected to it. His expression changed when he realized that her attention had shifted to her smartphone, and the sense of romance looked lost as she focused on broadcasting the news. I'm not sure if it was disappointment that I saw, or resignation.
As I thought about the Barbie with the video recorder pendant, I imagined a wedding ceremony in which the bride decides she wants to record the experience from her perspective, so she wears a video camera pendant. If so, where would the bride want the groom to look? Should he look into her eyes, which would cause the camera to record his face from a strange angle? Or should he look down into the camera lens resting on her sternum? Which perspective would she prefer to have as a memory? A mental one of him looking deeply into her eyes as he says, "I do," or a taped one where he plays a role with his gaze directed at her video camera?
[The couple photograph is by Ed Yourdon and the ring photograph by Meemal. Both are used under the Flicker Creative Commons license.]